OSH, Kyrgyzstan -- Kyrgyzstan's President Roza Otunbaeva has marked the first anniversary of deadly ethnic violence in her country with a call for tolerance and understanding between Krygyz and ethnic Uzbeks.
Speaking in the southern city of Osh, a focal point of last year's deadly ethnic clashes, Otunbaeva told hundreds of survivors of the violence on June 10 that the country must learn from the horrific experience.
"We have been living together for centuries and will live together in future," Otunbaeva said. "We are a united nation. We have been together in sorrow and joy. We shouldn't let out anger and we should think about the future. There is no alternative for harmony. There is happiness when there is harmony."
'Mothers' Tears'
Earlier in the day, Otunbaeva unveiled a monument in Osh featuring two weeping women of Uzbek and Kyrgyz ethnicity embracing each other. The Kyrgyz president said she hopes the cast-stone sculpture, called "Mothers' Tears," will help people "master this history lesson" so that the tragic events in Osh and Jalal-Abad of June 2010 are not repeated.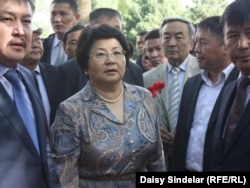 President Roza Otunbaeva arrives for the commemoration ceremonies in Osh on June 10.
The week of ethnic riots that broke out on June 10, 2010, in southern Kyrgyzstan culminated in pogroms against Uzbek neighborhoods. At least 470 people, mostly ethnic Uzbeks, were killed and several hundred thousand fled their homes.
The international rights groups Amnesty International and Human Rights Watch
this week warned
that "profoundly flawed investigations and trials," mainly affecting the ethnic Uzbek minority, have undermined efforts to promote reconciliation and have been fueling tensions that could spark renewed violence in the future.
Otunbaeva acknowledged those judicial shortcomings on June 10, pledging to impose tough reforms of the courts in Osh and across Kyrgyzstan.
"These days, there is much dissatisfaction with the judicial system -- particularly, about the investigations into last year's events, the search for suspects, and respect for legal orders in rural places and cities," Otunbaeva said. "There is no trust in the courts."
No End To The Problems
Although there were no signs in Osh today of renewed violence that local police had warned about, RFE/RL correspondent Daisy Sindelar reported that the mood in the southern city remained sour -- with many angry ethnic Kyrgyz citizens expressing dissatisfaction with Otunbaeva.
She said the Kyrgyz president's speech got a cool reception with little applause.
After the formal event, the correspondent said several angry crowds of ethnic Kyrgyz gathered near the monument to shout their grievances to Otunbaeva, saying she'd been negligent in her treatment of Osh residents after the clashes and avoided visiting sites of the worst destruction or families who'd lost loved ones.
Ablabek Asankanov, head of the presidential department dealing with religious and ethnic policies in Kyrgyzstan, said Kyrgyz authorities had launched some 5,000 criminal investigations in the aftermath of last year's riots. He said 200 people had been sentenced.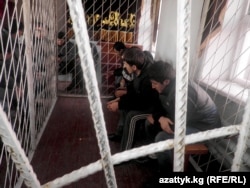 The trial in Osh in December of five defendants accused in connection with a killing in the city's central market in June 2010.
International observers said 85 percent of those who had been sentenced were ethnic Uzbeks who often did not receive a fair trial or treatment. Lawyers in Kyrgyzstan also complained that most of those brought before the courts had been minority Uzbeks.
Kyrgyz rights activist Aziza Abdirasulova said authorities were unable to secure safety for ethnic Uzbeks, and that government officials, doctors or lawyers who defended Uzbeks faced the risk of being beaten.
Tatyana Bygovskaya, the head of a Bishkek-based nongovernmental organization called Egalite, said the biggest impediment to peace and harmony in Kyrgyzstan was the lack of a common perception about last year's violence.
written by Ron Synovitz in Prague with reporting by Daisy Sindelar in Osh; RFE/RL's Kyrgyz Service contributed from Osh and Prague; with additional agency material