OSH, Kyrgyzstan -- There are few stories in Osh, it seems, that can be told without tears.
Maya Tosunbekova and her sister cry as they remember how angry crowds flooded onto their street in the city's Cheremushki district on the night of June 10, 2010, firing guns and ultimately setting alight the 10-room house that she and her husband had purchased for $130,000 just three years earlier.
Like hundreds of Osh residents whose homes were destroyed, Tosunbekova, 40, can conduct a virtual tour of the ghost of her former home -- a special spot for a washing machine in one corner, cozy rooms for the couple's four children, even a Russian-style sauna.
Now all that remains are a small kitchen and two brick rooms built with help from the UN refugee agency and the Red Cross. In the courtyard, a half-dozen men lay the foundation for a new room in the sweltering midday heat.
Nearly all of the houses on Tosunbekova's street were destroyed in the June clashes that broke out between Kyrgyz and Uzbeks. The Cheremushki district, a grid of leafy, tree-lined streets, forms one of the city's main Uzbek mahallas, or neighborhoods.
Tosunbekova, however, is Kyrgyz, one of a small group of Kyrgyz homeowners on the block. Until the events of June 2010, she says she enjoyed warm relations with her Uzbek neighbors.
"There were no problems. We saw each other every day," she says. "I, for example, speak very good Uzbek. And they would help us. We were in touch every day. It's our tradition."
'We Were Good Neighbors'
Next door, separated by a tall concrete wall, lives 67-year-old Negora Alimova, a broad-cheeked Uzbek woman who was born and raised in Osh and whose father once served as a prominent member of the district political administration.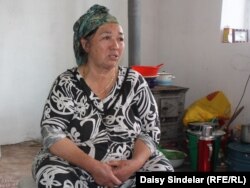 Negora Alimova says the violence was worse this time.
Alimova's house, like that of her neighbor, was reduced to charred remains during the June clashes. She has been able to rebuild only one room so far, a bare-bones affair softened by the homey fragrance of a pot of meat and rice bubbling on an electric hot plate.
Alimova, who worked for years as a professional cook, says she is still perplexed by the violence that broke out among people who had lived peacefully together for years.
"I worked with Kyrgyz people for 30 years. We were very friendly," she says. "Where this kind of fight came from, I don't know. It all happened all of a sudden, in one day. No one expected it."
Alimova says her attitude toward her Kyrgyz neighbors has not changed. "A lot of them helped me, when sometimes even my Uzbek neighbors wouldn't," she says.
But the clashes have undeniably left a mark of ethnic division. During the fighting, she claims, a Kyrgyz woman went from house to house, marking each as either Kyrgyz or Uzbek, in order to direct Kyrgyz vandals toward the Uzbek homes.
'You Can't Trust Them'
One need look no further than Tosunbekova to know that such a strategy failed. But Tosunbekova -- a former journalist whose husband works as an officer with the state security services -- does not believe the Kyrgyz were to blame for the worst of the violence.
She shrugs off Western reports like that of the Kyrgyzstan Inquiry Commission that suggest nearly three-fourths of the 470 victims were Uzbek. "Many of the Kyrgyz who were killed are still missing," she says, echoing an oft-repeated claim. "And the people they've found were actually Kyrgyz who were buried by Uzbeks under Uzbek names, in order to mislead people."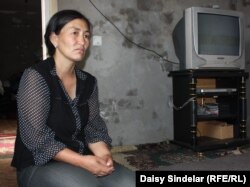 Maya Tosunbekova no longer trusts her Uzbek neighbors.
On the night of June 10, 2010, Tosunbekova's family spent a terrified night in the basement of their house. On the first anniversary, she says, they have decided to leave altogether, rather than risk a fresh outbreak of violence, possibly even at the hands of young Uzbek extremists who -- Tosunbekova claims -- have traveled to Afghanistan for militant training.
"It's dangerous here," she says. "They have weapons." When asked who has weapons, she replies: "The Uzbeks. Maybe even the neighbors. You can't trust them."
Tosunbekova says she has sympathy for her Uzbek neighbors like Alimova. "We're all simple people who didn't ask for this," she says, her eyes filling once again with tears. But at the same time, she speaks angrily of Kyrgyzstan's Uzbeks as enjoying greater wealth and comforts than Kyrgyz like herself.
"They all have two cars, so that even the women have a car," she says bitterly.
In the house next door, Alimova makes no such characterizations. She has lived in Cheremushki for decades -- long enough to remember the previous outbreak of ethnic clashes, in 1990. At the time, she says, she believed that neighborly friendships were stronger than ethnic divisions. But now, she says sadly, she's no longer sure.
"God forbid that this happens again. Who will help us? I never saw a time a like this," she says. "I was here in 1990, and we were right in our house and we weren't afraid. We were watching from the window, and nothing happened. [This time] was terrible, terrible. Can you imagine? Nothing was left."
RFE/RL Kyrgyz Service correspondent Aida Kasymalieva contributed to this report