Hundreds of Daghestanis living in Azerbaijan are currently faced with the choice of forfeiting either their homes or their Russian citizenship
They are the unintended victims of a border treaty signed by the Russian Federation and the Azerbaijan Republic in September 2010, under which Russia formally relinquished any claim on two exclaves in northern Azerbaijan that for decades had been considered administratively part of the territory of the Magaramkent district of neighboring Daghestan.
The several hundred residents of those two villages, most of them Russian citizens and ethnic Lezgins, are consequently
faced with the choice
of applying for Azerbaijani citizenship in order to remain where they live, or resettling in Russia.
Almost all of them reject the first option. But the Daghestani government, which is
vigorously pursuing
all avenues for expanding economic cooperation with Azerbaijan, claims it cannot resettle them in Daghestan without Moscow's permission and financial support.
The villages of Khrakhuba (Qiraqoba) and Uryanoba in Azerbaijan's Khachmaz district, some 50 kilometers from the Azerbaijani-Russian border, were leased to Daghestan for use as pasture under an agreement signed in May 1954 and prolonged in 1984 for a further 20 years.
After 2004, the villages were left in legal limbo until the signing of the border treaty last year.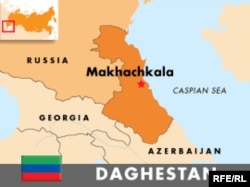 The Azerbaijani authorities have offered the villagers the choice of retaining their Russian citizenship and registering as either temporary or permanent foreign residents of Azerbaijan, in which case they would automatically lose the right to own property in that country; applying for Azerbaijani citizenship; or emigrating to Russia.
The villagers initially hoped, however unrealistically, to persuade the Daghestani authorities to sign a special agreement with Azerbaijan that would designate the villages Russian territory and thus enable them to continue living there.
Illusory Hopes
When those hopes proved illusory, most of them reportedly sought to relocate to Daghestan within the framework of the Russian government program to facilitate the immigration of ethnic Russians from other CIS states.
Specifically, they asked to be resettled en masse in the southern Daghestani districts of Magaramkent and Derbent. Lezgins -- the fourth-largest of Daghestan's 14 titular nationalities --constitute a majority in those districts.
Villagers from Khrakhuba staged protest demonstrations in Makhachkala in early February and mid-May in the hope of securing the support of the Daghestani government.
The Daghestani authorities have sent at least two delegations to Baku to discuss the problem, but have done little so far to help the villagers.
On the contrary, some villagers complain that Daghestan's minister for nationality policy, religious affairs, and external ties, Bekmurza Bekmurzayev, has repeatedly pressured them to relinquish their Russian citizenship and apply for Azerbaijani citizenship.
The Russian Federation has signed treaties with Tajikistan, Turkmenistan, and Armenia that make provision for dual citizenship, but not with Azerbaijan.
Legal, Economic, And Logistical Constraints
Participants at the May protest in Makhachkala
denounced
what they termed Bekmurzayev's "pro-Azerbaijani" position and demanded that he should be removed from the ongoing talks on a solution to the problem.
The Daghestani authorities initially said they were unable to meet the villagers' demand to settle in southern Daghestan due to legal, economic, and logistical constraints.
Bekmurzayev told the February protest there was
neither land nor financial resources
available to resettle in one place all the villagers who want to move to southern Daghestan. That region already has one of the highest unemployment rates in the republic.
Bekmurzayev
subsequently explained
that the federal program for resettling ethnic Russians from other CIS states to the Russian Federation stipulates specific regions where they may live, and Daghestan is not one of them.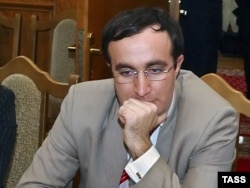 Head of Daghestan's Patriots of Russia movement, Eduard Khidirov
At the
urging
of Eduard Khidirov, who heads the Patriots of Russia faction in the Republic of Daghestan's parliament and himself was
born and grew up
in Khrakhuba, the Daghestani parliament nonetheless
formally voted
in May to ask Moscow to finance the resettlement of the villagers to Magaramkent.
But
according to Daghestan's Deputy Prime Minister
Rizvan Gazimagomedov, this could take up to two years.
The villagers cannot afford to wait that long. Possibly in an attempt to galvanize the Daghestani leadership into action, Azerbaijan State Migration Service head Arzu Ragimov said in mid-April those villagers who failed to formalize their residency status by April 30 would be deported. Under Azerbaijani law, non-citizens who are not formally registered as living temporarily or permanently in Azerbaijan are liable for deportation.
Although the Azerbaijani authorities did not make good on that threat, they reportedly
continue to pressure
the villagers to take Azerbaijani citizenship or leave.
Kadyrov 'Only Politician To Respond Positively' To Appeals
During talks with Daghestani officials in late May, Baku
agreed to extend
for a further three months the deadline for resolving the problem. Russia's ambassador to Azerbaijan
expressed appreciation
of Baku's "colossal patience" and "constructive approach."
It is not clear whether the obstacles in the Azerbaijani-Daghestani talks center on the logistics of moving the villagers to Daghestan, or on the issue of compensation. Republic of Daghestan head Magomedsalam Magomedov
told the republic's parliament
in late May that Azerbaijan had offered the villagers material compensation, but did not say how much. Magomedov stressed that Azerbaijan "is acting correctly."
Individual villagers have argued that the Azerbaijani authorities should pay 250,000 rubles ($8,891) to those families that leave for Russia, given that persons who are not Azerbaijani citizens do not have the right under Azerbaijani law to sell their homes. Gazimagomedov has proposed obviating that ban by introducing dual citizenship for the villagers in question.
With the deadline to acquire Azerbaijani citizenship or leave the country rapidly approaching, the villagers may yet be offered new homes elsewhere in the North Caucasus. Alaverdi Mamedov from Khrakhuba told the website Kavkaz-Uzel in February that the only politician who had responded positively to their appeals for help was Chechen Republic head Ramzan Kadyrov, who, according to Mamedov, "
offered every possible assistance
." (It is not known whether the villagers approached Russia's wealthiest Lezgzin, billionaire oligarch and Federation Council member Suleiman Kerimov, who is close to republic head Magomedov.)
Kadyrov may be waiting for the most opportune moment to assume the role of savior and protector of the hapless villagers, and in doing so to upstage his weak and ineffectual Daghestani counterpart.
Such a move would be in keeping with Kadyrov's
ongoing efforts
to extend his influence throughout the North Caucasus.
In the late 1990s, some Lezgins in both Daghestan and Azerbaijan launched a short-lived campaign for an independent state, leading Baku to accuse Russia of seeking to use that ethnic group as a fifth column to destabilize northern Azerbaijan.
And three years ago, the Russian Foreign Ministry and State Duma sponsored a conference in Moscow at which the situation of the Lezgin minority in Azerbaijan, including the inhabitants of Khrakhuba and Uryanoba, was discussed, and at which printed materials were distributed
outlining and apparently endorsing
Lezgin territorial claims on Azerbaijani territory.
But there is no evidence to suggest that the villagers' protests are part of a new attempt by Moscow to "play the Lezgin card," nor has any Azerbaijani politician publicly construed them as such.