Russian President Dmitry Medvedev has addressed some of the more than 2,000 business leaders, politicians, civil society activists, and academics who have converged in Switzerland for the 41st World Economic Forum.

Medvedev's arrival in the Alpine resort town of Davos, where he planned to cast Russia as a stable environment for international investment, was delayed by the January 24 attack at Moscow's bustling Domodedovo Airport.

Russian authorities say the blast, which killed 35 people and injured many more, was the work of a terrorist suicide bomber.

Medvedev said the attack was meant to "bring Russia to its knees," and was timed in part to prevent him from attending Davos. From the podium, he called for strengthened efforts to combat terror, especially by economic means.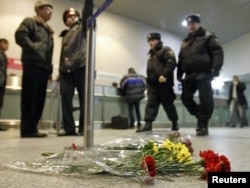 Flowers left in memory of those killed in blast at Moscow's Domodedovo airport
"We should intensify our joint efforts to fight terrorism and do everything possible, if not influence its ideology, to address the social and economic roots of terrorism -- poverty, unemployment, illiteracy, orphan-hood -- and ensure that global development becomes sustainable, secure, and fair," he said.

No Lectures, Please


In a wide-ranging speech, the Russian president touched on topics ranging from climate change, to the planned Russian technology innovation hub at Skolkovo, to European missile defense.

But in line with the theme of this year's meeting, "Shared Norms for the New Reality," Medvedev devoted a sizeable portion of his speech to describing the emergence of the internet and social media. He pledged Russian openness in that sphere, and tied it to economic development.

"Universal interconnectedness should become a major driver of economic growth and any attempts to disrupt these connections, for example restrictions of Internet freedom or of the spread of innovation, will lead the world to stagnation. Russia will not support any initiatives that jeopardize Internet freedom." he said.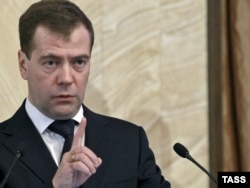 Russian President Dmitry Medvedev shortened his stay at Davos because of the airport attack,

Medvedev also acknowledged that to the detriment of foreign investment, Russia has not reached a breakthrough in tackling corruption or reforming the judiciary and law enforcement. But he said "lecturing" by outsiders doesn't help.

"We have not achieved any remarkable successes yet but we are full of resolve to continue working. We are learning and we are willing to receive friendly advice but, of course, we don't need lecturing," Medvedev said.

New Realities

In wake of this week's attacks, the Russian president shortened his stay at the forum and returned to the Kremlin after his speech.

Those remaining in Davos will spend through January 30 considering a broad array of themes that Klaus Schwab, founder and executive chairman of the event, has termed a "new reality:"

"Let's take again the emergence of China, the emergence of India, represented here as never before. Let's take the consequences of social media, how they impact even on politics. Let's take the need for creating a situation where we deleverage again in our world," he said. "Let's take the whole notion of employment and unemployment particularly. All those are the issues and features of the new reality."

More than 1,400 business leaders and more than 30 heads of state or government will take part in the discussions, joined by central bankers, and officials from international organizations, civil society, media, and academics.

High Security

The meeting is protected by tight security, which includes some 4,000 troops deployed on land and the closing of local airspace.

This year's annual meeting will tackle issues ranging from the rise of India and China as global powers; anxieties about European debt, austerity, and joblessness; the risk of runaway inflation in fast-growing economies; and the failings of the global economic system -- from poverty to inequality and environmental issues.

The World Economic Forum will also present its Risk Response Network, designed to help firms, governments, and international organizations deal better with interrelated risks facing the world.

In his interview with Reuters, Schwab said finding solutions to global problems needed an all-encompassing approach.

"The key in Davos is to discuss all those issues in the interdependent way, in a systemic way, because our world is still structured in a much too departmentalized format where you deal with trade issues in the WTO and health issues in the World Health Organization, but at the end all those issues are interrelated," Schwab said.

Networking And Dealmaking

Aside from the official sessions, the forum is a chance to network, strike deals, and lobby.

U.S. concerns over its trade imbalance with China and the value of the Chinese currency against the dollar are expected to be raised by U.S. Treasury Secretary Timothy Geithner.

Reflecting the rebalancing of global power, organizers said that compared to a decade ago, Chinese representation is up five-fold and that from India is up four-fold.

The mood is expected to be more optimistic than in the past two years, with many expecting a boom in 2011 despite many risks which could derail recovery.

A CEO confidence survey for the event suggested that business confidence is nearly as strong as before the start of the global financial crisis.

The IMF expects emerging and developing economies to keep up brisk growth this year, although the organization warned against inflationary pressures rising, particularly from high food and energy prices.

compiled from agency reports