BRUSSELS --The Netherlands and Finland have blocked Bulgaria's and Romania's entry to the European Union's passport free-zone, Schengen.
The two Balkan countries have been members of the EU since January 2007, but their citizens are yet to travel freely within the Schengen area that includes 22 EU member states plus Iceland, Norway, and Switzerland.
Both Bulgaria and Romania were originally expected to join in March but their accession was delayed because of political opposition by larger EU states who claimed the pair had not done enough to fight corruption and ensure the rule of law.
A compromise had been proposed, which would keep border checks on land crossings until 2013 but allow Bulgarian and Romanian citizens to travel freely by sea and air.
But this was effectively rejected at a meeting in Brussels on September 22 when EU interior ministers failed to reach a unanimous agreement.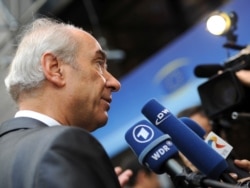 Dutch Immigration Minister Gerd Leers talking to reporters in Belgium.
The Dutch minister of immigration, Gerd Leers, told reporters that both Bulgaria and Romania need to do more.
"What we need is not only a technical approval of the situation of Bulgaria and Romania but also the underlying rule of law," he said.
"That means the fight against corruption, the fight against organized crime, [and] the repairing of the judicial system."
Bulgaria and Romania have officially fulfilled the technical requirements for Schengen accession.
Romania has arrested several border guards and customs officers on suspicion of bribe-taking while Bulgaria has recently tracked down suspected criminals and stolen vehicles.
Tit-For-Tat Countermeasures Might Now Ensue
After the Dutch announced they were opposed to Romania and Bulgaria joining, Romanian border guards prevented trucks carrying tulips seeds and bulbs from the Netherlands from entering the country.
The Bulgarian foreign minister has also indicated that his country would block EU plans to reform the rules concerning Schengen.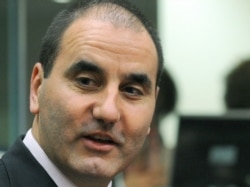 Bulgarian Interior Minister Tsvetan Tsvetanov has been critical of the Schengen delay.
Bulgarian Interior Minister Tsvetan Tsvetanov told journalists that he was disappointed with the decision and blamed the political climate in The Netherlands and Finland for the negative result:
"The position of the Netherlands and Finland is based on their internal political problems," he said. "It is very difficult to explain to European citizens how two countries were not part of a consensus that united 30 other Schengen and associate countries."
Some have linked the Netherlands' and Finland's negative stance to the increasing power of populiss parties in both countries' parliaments with Geert Wilders's right-wing Freedom Party (PVV) and the Euroskeptic True Finns exerting considerable influence on their respective governments.
Leers added, however, that blaming Wilders for the result was too far-fetched, noting that he had the whole Dutch parliament's backing:
"By using this argument, it is too simple, it is too easy," he said. "For me it is just again the content. Be honest and show how you are going to repair the shortcomings that exist at the moment. That's the situation."