BRUSSELS -- EU interior ministers have given their backing to a proposal that would allow countries in the Schengen area to reintroduce national border controls in exceptional circumstances.
At a meeting in Brussels on May 12, the ministers from the 27-member European Union agreed to preserve free movement within Schengen, the passport-free zone over much of continental Europe.
But reports said some 15 ministers supported the idea -- floated by the European Commission last week -- of reintroducing internal controls as a temporary measure to deal with a sudden influx of migrants.
The EU commissioner for home affairs, Cecilia Malmstrom, said at a press conference that border controls could only be reinstated temporarily and as a very last resort, adding that there was a general consensus about this approach among member states.
"There was a general agreement today that Schengen needs to be preserved. We are not going to weaken Schengen in any way," Malmstrom said.
"This was a unanimous, very strong statement by member states, and I think you've heard [such statements] being repeated in many press conferences. But there might be a need to clarify the criteria when certain exceptional circumstances could occur."
Malmstrom admitted, however, that question marks remain over exactly when border controls can be reinstated and whether the EU Commission should be the final arbiter in such a situation, noting that "some member states have other views on the decision of the criteria."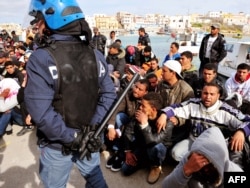 Following the chaos and unrest in North Africa, the influx of migrants to Italy has risen dramatically.
It is believed that Germany, Austria, and the Czech Republic have expressed doubts that the EU should decide over national borders.
Other member states have indicated that they want more information on how such a border mechanism would work.
Discussions on the proposal are expected to continue in the coming weeks in the run-up to the big EU summit at the end of June.
Fears Of Immigrant Wave
Talk about Schengen and its internal borders has dominated the EU agenda in recent weeks following an influx of thousands of immigrants fleeing unrest in North Africa.
The discussions were triggered after France last month set up checks on its border with Italy, preventing refugees from Tunisia from entering. Italy had issued temporary residence permits to many of the 25,000 migrants that have arrived in the country in recent months.
On May 11, Denmark announced that in the next couple of weeks it would start making customs checks on its borders with Sweden and Germany, citing cross-border criminal activities.
The European Union's executive responded on May 13 with an expression of concern from European Commission President Jose Manuel Barroso to Denmark's prime minister. In a letter to Lars Lekke Rasmussen, Barroso cited doubts about the legality of Copenhagen's plan to strengthen border controls as part of a domestic political deal.
Barroso said the plan "raises important doubts about whether the proposed measures...would be in line with Denmark's obligations under European and international law."
The Schengen area stretches from Portugal to Estonia and includes 22 EU member states, plus Iceland, Norway, and Switzerland.
Five EU members -- Ireland, the United Kingdom, Bulgaria, Romania, and Cyprus -- are not in Schengen.
with additional wire reports