WATCH: A German court has found John Demjanjuk guilty of helping to murder nearly 30,000 prisoners at a Nazi concentration camp. Vera Dejong, a relative of Sobibor victims, expressed relief at the guilty verdict.
A German court today found John Demjanjuk guilty of helping to murder almost 30,000 prisoners at a Nazi death camp during World War II, but released him to due to his advanced age.
The court in Munich sentenced the Ukraine-born Demjanjuk to five years in prison after a high-profile trial likely to be one of the last of its kind.
Presiding Judge Ralph Alt said the 91-year-old was a willing part of the Nazis' "machinery of destruction."
Demjanjuk, sitting in a wheelchair and wearing his trademark baseball cap and sunglasses, showed no emotion as the judge announced the verdict.
The court then ordered his release from jail because of his age. because he cannot travel, and pending a possible appeal.
One of Demjanjuk's lawyers, Guenther Maull, said the defense may appeal the conviction.
"For the defense, it means firstly that we have to think about the available legal remedies and the possibilities they offer," Maull said. "Secondly, we must also think about how reasonable it would be to appeal and not only trust that he will get only half the sentence, which is also possible as a legal option."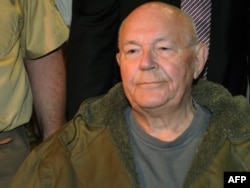 John Demjanjuk leaves the court after the verdict in Munich.
The court found that Demjanjuk worked for six months in 1943 as a guard at the Sobibor death camp in Nazi-occupied Poland.
Although there is no evidence that Demjanjuk committed a specific crime, prosecutors said his work at the camp automatically made him a participant in the mass killing of prisoners, the vast majority of whom were Jewish.
He was convicted of at least 27,900 counts of accessory to murder for the number of people who died during those six months.
The guilty verdict was welcomed by death camp survivors.
The head of Israel's Yad Vashem Holocaust institute, Avner Shalev, said bringing Nazi war criminals to justice played "an important moral and educational role in society."
Some Holocaust survivors, however, said the verdict comes too late to offer any relief.
"From the standpoint of Mr. Berlowitz and Mr. Blatt, who were both at Sobibor, it is too late for justice," said Stefan Schuenemann, a lawyer for two of the co-plaintiffs in the case. "After 70 years, there is no way to right what has happened, so that the people involved can gain from this in their future. Justice, as far as it was possible, has been done as far as my clients are concerned. But they don't have much left after so much time."
Despite his release, Demjanjuk has nowhere to go; he is too frail to travel and is also stateless, the United States having stripped him of his citizenship.
He had been in German custody since being extradited in 2009 from the United States, where he emigrated after the war and worked in an Ohio car factory.
He also served nearly eight years in prison after an Israeli court in the 1980s found him guilty of being a sadistic guard dubbed "Ivan the Terrible" at another death camp, Treblinka.
Israel's supreme court eventually overturned that verdict after new evidence exonerated Demjanjuk.
Demjanjuk rejects all the charges. He claims he was captured by German troops as a Red Army soldier in 1942 and sent to a camp for prisoners of war before joining the Vlasov Army, followers of General Vlasov who turned against the Soviet Union and fought with the Nazis.
His lawyers insist that his alleged SS identity card presented as evidence in the trial is a fake produced by the Soviet KGB secret services. They stress that no witnesses has been able to place him at the camp.
The trial has also raised some questions due to Demjanjuk's past as a prisoner of war and Germany's own role in the Holocaust.
compiled from agency reports