A court in Belgrade has ruled that Bosnian Serb wartime general Ratko Mladic is fit enough to be extradited to a United Nations war crimes tribunal.
Mladic, one of the two remaining fugitives accused of instigating ethnic cleansing during the 1992-95 Bosnian war, was captured on May 26 in a northern Serbian village after more than 15 years on the run. He was found in a farmhouse owned by a cousin.
Maja Kovacevic, a spokeswoman for the court, said the 69-year-old Mladic's health allowed him to stand trial at the UN International Criminal Tribunal in The Hague, The Netherlands.
"He did not want to accept The Hague indictment. He refused it," Kovacevic said. "After the hearing, the court decided that the conditions have been fulfilled for his extradition, and a written decision was given to the lawyer of the defendant and to General Ratko Mladic. So he has until Monday [May 31], which is three days, to file an appeal."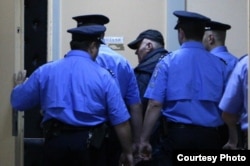 Ratko Mladic, in baseball cap, with police escort at the enterance to the courtroom in Belgrade on May 26.
RFE/RL's Balkan Service quoted a deputy war crimes prosecutor, Bruno Vekaric, as saying Mladic could be extradited within seven days.
Several dozen nationalists gathered in Belgrade on May 27 to protest Mladic's arrest.
RFE/RL's Balkan Service quoted police chief Milorad Veljovic as saying the situation in the country was stable. But he acknowledged that security forces had detained 86 people and charges filed against several dozen of them.
Fit For Trial
Mladic's lawyer, Milos Saljic, has argued his client was too frail to be extradited to The Hague.
Footage of Mladic being escorted to be interviewed by a judge on May 26 shows a frail man looking disoriented and walking with a slight limp -- a stark contrast with the thickset man accused of orchestrating some of the most brutal massacres of the Bosnian war.
"Mladic, at this moment, is definitely not able to follow the work of the court and to defend himself adequately," Saljic told reporters outside the Belgrade court on May 27.
"His overall health is very fragile," Darko Mladic said. He said his father, whom family members were said to have met earlier for the first time in years, was not guilty of any war crimes.
The UN tribunal accuses him of genocide, crimes against humanity, and war crimes for his role in the slaughter of 8,000 Muslim men and boys in the Bosnian town of Srebrenica and the bloody four-year siege of Sarajevo.
The Srebrenica massacre in July 1995 is considered the worst atrocity committed in Europe since World War II.
Mladic's poor health has raised concerns that his lawyers will use it to delay his extradition. The May 26 hearing was adjourned after his lawyer claimed he was unable to communicate.
A spokeswoman for the tribunal in The Hague, however, said the court was "absolutely capable" of dealing with any of Mladic's health issues.
The arrest of one of the word's most-wanted fugitives could considerably improve the image of Serbia, which the West has accused of harboring men suspected of the worst atrocities of the Balkans wars.
WATCH: RFE/RL Associate Director of Broadcasting Nenad Pejic talks about what the arrest of war crimes fugitive Ratko Mladic means for Serbia internationally, regionally, and domestically:
Step Forward?
UN top war crimes prosecutor Serge Brammertz said Mladic's detention, although long overdue, was a victory for international justice.
"It is very important for the tribunal of course, because he is one of the two remaining fugitives," Brammertz said. "There is still [Goran] Hadzic at large, but of course the arrest of Mladic is a very important moment. But I also think it is a very strong signal in general in relation to supporting international justice, because it means that sooner or later those allegedly responsible for the worst crimes will be one day arrested."
Bosnian Foreign Minister Sven Alkalaj said Mladic's detention would help heal the wounds of war and foster reconciliation in the Balkans.
European Union foreign policy chief Catherine Ashton said she expected him to be extradited to The Hague within the next 10 days.
Mladic's arrest could pave the way for Serbia's accession to the European Union.
Swedish Foreign Minister Carl Bildt said Serbia's EU prospects were now "brighter than ever," while Ashton, on a visit to Belgrade, hailed the detention as "a very important day for international justice and for the rule of law."
Lingering Controversy
In Washington, U.S. President Barack Obama applauded Serbian President Boris Tadic for his "determined efforts" to bring the war crimes suspect to justice.
The revelation that Mladic was in Serbia, however, strengthens the suspicion that Serbian authorities had long known where he was hiding.
His lawyer, Saljic, said Mladic told him he had been at the location where he was eventually arrested for between 10 and 15 days but that he did not want to reveal any more information about where he'd been hiding out during the previous 15 years.
Many Serbs still see Mladic as a hero. His Bosnian Serb Army was armed and funded by late Serbian and Yugoslav President Slobodan Milosevic, who died in 2006 while on trial for war crimes in The Hague.
Russia, Serbia's main ally, has called for a fair trial for Mladic.
Moscow has consistently accused the West of bias against Bosnian Serbs and strongly opposed the 1999 NATO bombing of Milosevic's Serbia.
written by Claire Bigg based on RFE/RL and agency reports
Balkans War Crimes
The Balkans Face Their Wartime Ghosts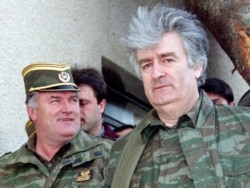 Bosnian Serb wartime leader Radovan Karadzic (right) and General Ratko Mladic in 1995
Poll: Most Serbs Support Mladic
EU Puts Pressure On Serbia To Arrest Mladic
Mladic Video Increases Pressure On Serbia
In Croatia, One Step Forward, Two Steps Back
Time For Serbia To Issue A Warrant For The Truth
Serbs Honor Srebrenica Victims With Shoe Memorial
Justice And Therapy In Yugoslav War Crimes Trials