Missing Al-Jazeera journalist Dorothy Parvaz has arrived safely back in Qatar after being freed by the Iranian authorities.
Parvaz -- who has Iranian, U.S., and Canadian citizenship -- had been deported to Iran by Syria after she arrived there three weeks ago to cover antigovernment protests.
Members of Parvaz's family told RFE/RL's Radio Farda she called her fiance, Todd Barker, early on May 18 from Qatar as she was clearing customs there.
Her release also was announced by her brother Dan Parvaz on a "Free Dorothy Parvaz" Facebook page that attracted more than 16,000 followers in the past 18 days.
"I have not directly had any contact from my sister. I got word through the family at roughly midnight Eastern Daylight Time," Dan Parvaz said.
"My understanding was that she was still being processed through customs and immigration in Doha [at that time]. She confirmed that she had been held in Iran."
Barker told reporters that Parvaz said she had been "treated very well." He said she told him she was held in solitary confinement at Tehran's notorious Evin prison and had been "questioned, but she is fine."
Al-Jazeera in an online statement also confirmed that Tehran had released the Iranian-born Parvaz. The statement said she was "safe and well and back with us" at Al-Jazeera's headquarters in the Qatari capital, Doha.
An Al-Jazeera spokesman later said Parvaz was talking with company officials who were trying to find out more about her ordeal during the last 18 days.
The network said Parvaz was not allowed any contact with the outside world while she was detained.
The U.S. Embassy in Qatar did not immediately comment. Officials were not immediately available at Canada's embassy in Kuwait, which handles consular matters for Qatar.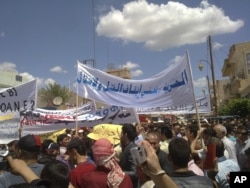 Parvaz was seeking to evade Syrian government efforts to limit media coverage of the protests sweeping the country.
Deported From Syria, Detained In Iran
The 39-year-old Parvaz was detained in Syria while on assignment for Al-Jazeera's English-language television channel. She had left Doha for Damascus on April 29 to cover the antigovernment uprising in Syria and the government's deadly crackdown on demonstrators there.
But the government of Syrian President Bashar al-Assad has banned most outside journalists and has placed strict controls on the few media outlets remaining in the country. Syrian officials said Parvaz was handed over to Iranian diplomats in Damascus on May 1 and deported to Iran.
On May 17, Foreign Ministry spokesman Ramin Mehmanparast said she had attempted to enter Syria with an expired Iranian passport and without proper press clearance
But it was only on May 18 that Tehran offered the first confirmation that Parvaz had been held in Iran.
Iranian news agencies quoted Tehran chief prosecutor Abbas Jafari Dolatabadi as saying the journalist had been held for verification of her passport.
"After verification it appeared that there were no problems with her passport and she was freed on [May 17]," Dolatabadi said.
Iran does not recognize multiple nationalities for Iranians. Iranians do not need advance visas to enter Syria. Those entering on Canadian and U.S. passports do require visas. The Iranian government offered no further comment today.
Relieved By Release
Barker said he had no prior indication that his fiance would be released, describing her phone call to him as "out of the blue." He said his biggest worry had been whether she had been killed or was being tortured.
Parvaz's brother Dan told RFE/RL that the ordeal of his sister's disappearance had been horrific. But now, he said, the family felt as if they had awoken from a dark nightmare.
"Of course we were anxious. We were worried. We were scared. I mean, the official silence on the matter [from Tehran] was, I guess, the hardest thing to take. And then all of a sudden she is free," Dan Parvaz said.
"And, of course, we are enormously relieved that she was freed. She said that she had been well treated, he added. "According to my parents and according to her fiance who I think has spoken with her, she sounded positive. She sounded upbeat and in good spirits. "
Her brother also posted to the "Free Dorothy Parvaz" Facebook page early today: "While I'm grateful to the Iranian government for her treatment and release, I'm more grateful to all of you. You kept the faith, made phone calls, wrote letters, rallied, watched the media...and never lost hope."
Not The Only Journalist In Jail
Numerous politicians and press-freedom groups, including the International Press Institute (IPI), had called for her release and wrote letters to the Syrian Embassy requesting that she be freed, and that the authorities provide information on her whereabouts.
The Vienna-based IPI expressed "delight" today about Parvaz's release. Director Alison Bethel McKenzie said, "We welcome Iran's quick efforts to locate and free Dorothy, but note that many other journalists remain in prison in both Syria and Iran."
McKenzie also called upon the Iranian and Syrian governments "to demonstrate the same respect for press freedom and the rights of journalists" that they have shown to Parvaz.
written by Ron Synovitz in Prague, with Radio Farda's Noushin Seiyed Hoseiny in Prague and additional agency material