Just days after Islamist rebel leader Doku Umarov claimed responsibility for the terrorist bombing of Moscow's Domodedovo airport late last month, Russia's volatile North Caucasus region has been rocked by a spate of fresh violence.
Two police officers were killed and 27 other people were injured in two suicide bombers struck a government building and a police checkpoint in Gubden, Daghestan, on February 14. Two other insurgents blew themselves up on February 15 after a brief shoot-out with security forces in the Chechen capital, Grozny.
The same day, five insurgents and three security officers were killed in a shoot-out in neighboring Stavropol Krai. Three other police were injured.
Despite the uptick in violence, Interior Ministry troops commander Nikolai Rogozhkin told journalists on February 15 the situation was "under control" and the government did not intend to deploy additional forces to the region.
Speaking on Russian state television, Daghestan President Magomedsalam Magomedov endorsed the Kremlin's policy of combating the insurgency with force. "Some of the militants have adopted an uncompromising position, and only a firm, forceful solution can be applied to them," Magomedov said. "And they must be given the punishment they deserve."
'Do They Even Want Peace?'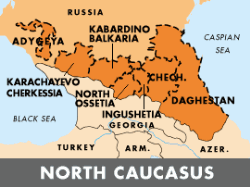 The latest violence is part of a sad pattern in a region that has been plagued by war and terrorism since the break-up of the Soviet Union. The Kremlin's efforts since 1999 to gain control of the situation through security operations have failed to bring stability or break the stubborn insurgency.
Moreover, Moscow's critics argue that systematic violations of human rights in the region by pro-Kremlin forces have only fed the insurgency and bolstered sympathy for the resistance.
Larisa Dorogova is a lawyer in Nalchik, Kabardino-Balkaria, who specializes in cases of missing persons and religious discrimination. She says the government's policies are so counterproductive that she doubts the Kremlin even wants peace and stability.
"I know that the best way of combating terrorism is to stop violating human rights. Then there would be no terrorism, no banditry, nothing of the sort. People want to live. People want to bring up their children. Young people are dying here and no one cares," Dorogova says.
"Someone is conducting a policy of inciting people against one another so that there are fewer of us in the Caucasus, so that we would kill one another. This is the conclusion I have come to. Someone wants a Caucasus without Caucasians."
Talking To The People
Against the general background of violence in the region, the Republic of Ingushetia stands out, says Oleg Orlov, director of the Memorial human rights center. He argues that the authorities there have pursued a more nuanced policy and have had better results.
"In Ingushetia over the last year, the number of terrorist acts has decreased significantly. This has happened for several reasons," Orlov says. "For one, there has been a policy of dialogue with the public and efforts to return fighters to a peaceful life -- at least, there has been conversations with their families and calls for them to lay down their arms."
Second, Orlov adds, "there have also been successful security operations. Said Buryatsky was killed and the emir, as he styled himself, Magas, was captured and a number of important field commanders were killed, meaning that now the terrorist underground in Ingushetia is practically inactive."
Other voices are also encouraging Moscow to do more to undermine the insurgency by engaging local populations. Andrei Soldatov is an expert on Russia's security forces who believes the battle for the hearts and minds of North Caucasus residents has been badly neglected.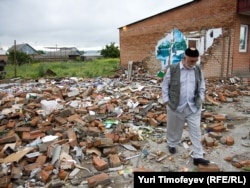 A man walks on ruins of a shop in Ingushetia, blown up by Islamist rebels for selling vodka. Many people in the region feel trapped between the two warring sides.
"The population in the North Caucasus feels under attack from both the militants and the security forces, because the operations that the security forces conduct against the militants often affect civilians. And no one shows any interest in them or talks to them. Or they talk to them very little," Orlov says.
"Of course, what is needed now is a conversation with the population, a dialogue, so that people would stop feeling like they are just a battlefield."
Fighting A Civil War
In general, Memorial's Orlov argues, Moscow's reliance on military methods has been counterproductive and has only pushed the once fairly monolithic Chechnya-based rebellion to evolve into a fractured, but flexible cause with regional reach.
"The terrorist network in the North Caucasus now acts like a networked organization. They say that the Caucasus Emirate is very weak because it doesn't have a singular leadership from one center," Orlov says. "But actually this is its strength -- many groups which recognize the supremacy of Doku Umarov, but which act rather autonomously."
Still, there is no sign that Moscow intends to alter course or that the rollercoaster of North Caucasus violence will abate. Aleksei Malashenko, an analyst with the Moscow Carnegie Center, describes the situation as a "civil war" with no resolution in sight.
"We have seen these upticks [in violence] many times. Either weekly or monthly. Either in Daghestan alone or in Daghestan and Chechnya or all at once in Daghestan, Chechnya, and Kabardino-Balkaria. Looking for a reason for each separate case doesn't make sense," Malashenko says.
"What has been happening in recent days fits into the concept of a civil war -- no one can deny that now, although six months ago there was some debate. But it is a kind of civil war where they fight among themselves and against the federal forces. And this will continue."
written by Robert Coalson, from reporting by RFE/RL's North Caucasus and Russian services