Angry protesters have attacked the headquarters of Egypt's hated internal security services in the country's second city, Alexandria, accusing it of human rights abuses under the regime of ousted former President Hosni Mubarak.
At least three demonstrators were said to have been injured when officers inside the building opened fire on the crowd, a paramedic at the scene said. Protesters broke into the building's lower floor and clashed with police.
Around 1,000 demonstrators had earlier encircled the building and demanded that officers come outside. Several fire bombs were thrown and four police cars were set ablaze.
The incident was apparently provoked by reports that officers inside were destroying key documents.
"State security, which killed our brothers and our children and which imprisoned our brothers, and which kidnaps them day and night everywhere, we have surrounded them and asked the army to arrest them; the army hasn't done anything," one man taking part in the protests told Reuters. "And then they fired live bullets. And when they did that, the people became very upset and went into the building and hit them. And they threw stones at them, until state security threw Molotov cocktails and set these cars on fire. Now the army is going inside to get their weapons from them. And so we're going to kill them once they take their weapons."
The agency's abolition has been one of the key demands of the mass demonstrators that toppled Mubarak on February 11. The force was responsible for a catalogue of crimes and abuses, including torture and arbitrary detentions, under a 30-year state of emergency that gave it a seemingly free hand to stifle dissent and put down unrest.
A smaller crowd marched on a state security building in the capital, Cairo, but was prevented from getting near soldiers.
Early Trial
Meanwhile, the first member of Mubarak's government to stand trial has appeared in court to plead not guilty to corruption charges. Habib al-Adli, a once-feared former interior minister, is accused of money laundering and unlawful acquisition of public money.
Standing in the dock wearing white prison clothes, Adli simply said: "It didn't happen."
Placard-waving protesters outside the courthouse called for Adli's execution, claiming his forces were responsible for killing demonstrators during the recent unrest.
Wael Elebrashy, an Egyptian journalist, said Adli's corruption trial could eventually lead to further charges.
"It is true that today's trial is more concerned with [Adli's] financial digressions and money laundering," Elebrashy told Reuters. "These charges -- directed at an interior minister who is meant to maintain what is lawful -- such as the seizing of state territories, establishing fictitious companies, mixing money with politics and the exploitation of power can shake the Egyptian people. This could perhaps lead to further trials concerning the charges of killing protesters, firing bullets at them. His trial may calm some people down and increase confidence in the Higher Military Council who will provide immunity to no one."
compiled from agency reports
Liveblog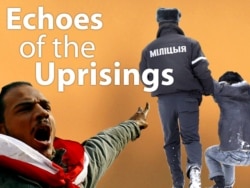 Tracking events and ideas convulsing the Arab world and with ripples around the globe, including RFE/RL's broadcast region.
Click here