WATCH: Clashes broke out around Cairo's Tahrir Square between antigovernment demonstrators and supporters of President Hosni Mubarak on February 2, with the two sides battling with rocks and sticks.

Gunfire has erupted in central Cairo in and around the main Tahrir Square. News agencies say there were casualties and that the toll from two days of violence may now be as high as seven dead.

It wasn't immediately clear who fired the shots, though the army denied that its soldiers were involved.

Today's violence followed riots on the square on February 2 between supporters of Egyptian President Hosni Mubarak and antigovernment protesters.

The unprecedented violence erupted as thousands of Mubarak's supporters converged on the square in the first counterprotest in nine days of antigovernment rallies driven by public anger over opppression, unemployment, and corruption.

Bowing to pressure, the 82-year-old Mubarak, who has been in power for 30 years, announced February 1 that he will not seek reelection when his term ends later this year.

'Thugs' For Hire

Antigovernment demonstrators accused Mubarak's regime of sending in gangs of thugs to disrupt protests, showing reporters evidence of police identification papers seized from members of the pro-regime crowd during the melee.

Reuters quoted a senior U.S. official as saying, "Somebody loyal to Mubarak has unleashed these guys to try to intimidate the protesters."

News agencies described Mubarak supporters as mostly working-class men in their 20s and 30s, many of whom identified themselves as street vendors or occasional laborers. The AP quoted supporters of the regime as saying Mubarak is the country's best chance for stability.

Egypt's Interior Ministry denied that any plainclothes police were involved.

The running battles broke out suddenly on Tahrir Square around midday on February 2 when a large group of Mubarak's supporters started throwing stones and charging the antigovernment demonstrators -- trying to push them further into the square.

Dozens of men charged into the square at full speed on horses and camels, snapping whips and breaking through a line of antigovernment demonstrators who had linked their arms together in a failed attempt to hold back the charge.

After falling back, the antigovernment demonstrators regrouped and isolated many of the horsemen -- knocking them off of the animals and beating the riders with sticks.

Meanwhile, correspondents from within the ranks of the pro-Mubarak crowd reported seeing uniformed police officers driving a truck with loudspeakers that was supporting the pro-Mubarak march.

PHOTO GALLERY: Supporters and opponents of Egyptian President Hosni Mubarak clash in Cairo's Tahrir Square on February 2.


Initially, there was no sign of army troops or riot police on Tahrir Square trying to keep the two groups apart.
After about 45 minutes of clashes, army tanks were deployed on main streets in the city center trying to keep the opposing crowds apart. After several hours, they were still unable to quell the anger and violence.
Speaking to RFE/RL from Cairo, Czech journalist Milan Sima confirmed reports that members of the press were being targeted in the day's clashes.
"My colleague here saw three journalists who were injured. They had bloody faces. We managed to escape," Sima said.
"All of a sudden the atmosphere changed. Before, people were happy that journalists were here, that we were interviewing and filming them," he added. "But now, the atmosphere changed because the supporters of Mubarak are against journalists. They are trying to stop journalists and reporters from covering and filming what is now happening in the streets."
The Committee to Protect Journalists, a U.S. based watchdog group, accused the Egyptian government of attacking reporters in an effort to prevent information about the unrest from reaching the outside world. Reporters Without Borders also said "infiltrated policemen" had joined the assaults.
Internet service was restored to some Egyptians on February 2, after the government cut off most Internet service in the country on January 28.

International Condemnation

International leaders have condemned the violence and called for immediate changes in the government.

A protester injured in the clashes on Tahrir Square is carried off.
In Washington, the White House issued a statement calling for restraint. Presidential spokesman Robert Gibbs reiterated comments President Barack Obama made on February 1 from the White House.
"It is imperative that the violence that we're seeing stop and that the transition that was spoken about last night begin immediately," Gibbs said.
UN Secretary-General Ban Ki-moon delivered a similar message in London, saying he was "deeply concerned" at the continuing violence in Egypt.
"This is very much an unacceptable situation that is happening. Any attack against peaceful demonstrators is unacceptable and I strongly condemn it."
Speaking on pan-Arab television network Al-Jazeera, EU foreign-policy chief Catherine Ashton said, "We need to see the transition, and we need President Mubarak to respond to the will of the people by showing the plan that he has and that the people can believe in that plan."
British Prime Minister David Cameron said it was unacceptable if Mubarak's regime is sponsoring or tolerating the violence in any way.
Spreading Unrest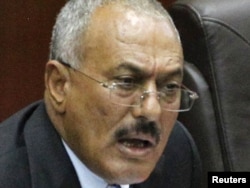 Yemeni President Ali Abdullah Saleh
Egypt's pro-democracy forces received a boost of confidence this week from news that similar antigovernment protests in other parts of the Arab world appear to be having some impact.
Yemeni President Ali Abdullah Saleh told parliament in Sanaa on February 1 that he would not seek another term in office and that his son would not run in upcoming elections. Saleh also promised changes to Yemen's constitution that now allow him to effectively remain president for life.
Demonstrators in Yemen have called for mass protests on February 3 as a "day of rage" against the 64-year-old president, who has held power since 1978.
In Jordan on February 1, King Abdullah sacked the government and appointed his former national security chief Marouf Bakhit to be the new prime minister. King Abdullah ordered Bakhit to form a new cabinet and carry out what he called "true political reform.."

with agency reports