When the moment came, he looked less like a pharaoh dethroned than a sick old man on his deathbed.
The
sight of the once all-powerful Hosni Mubarak
, 83, lying on a gurney, purportedly gravely ill, inside a cage -- captured on candid camera at one point picking his nose -- must have prompted millions of watching Egyptians to wonder just what had they been afraid of all those years.
It seemed hard to believe that this stricken shriveled figure was the same man who had held a strategically vital country with a proud and hallowed past in his thrall for 30 years. Yet here he was, together with his two sons, Alaa and Gamal, and his former interior minister, Habib El-Adly, all wearing white prison suits, captive inside the same kind of zoo-like courtroom cage that had once held many of his opponents.
In the ultimate role reversal, a prosecutor read out a litany of charges, including the killing of hundreds of demonstrators who had risen up against him in February, profiteering by abusing his power, and exporting gas to Israel at below market rates.
"His main intention was for him to remain in power," the prosecutor said, a remark that seemed to throw the toppled president's powerless state into even sharper relief. Mubarak spoke only once, denying the charges as a microphone was handed down to him. If convicted, he could face a sentence ranging from five years in jail to the death penalty.
Even before Mubarak was wheeled into court -- and perhaps anticipating the heated emotions the fallen leader's appearance would trigger -- Ahmed Refaat, the presiding judge, exhorted all present to "please stay calm."
Fat chance. The scene at some points resembled a grand bazaar, as competing lawyers lined up to stick in their pennyworth.
A Shock To The System
All told, it was an extraordinary spectacle -- rendered all the more so given the deep skepticism of many Egyptians that the ruling Supreme Military Council would ever bring Mubarak, a former air force commander and war hero, to trial.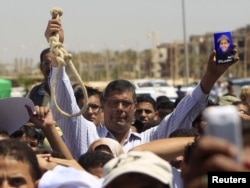 People protest against Mubarak outside the court in Cairo.
The fact of its coming to pass is bound to have a profound impact on the public consciousness in Egypt and elsewhere in a volatile region that has seen populations rise up in recent months against authoritarian governments as never before, says Maha Azzam, a Middle East specialist at the London-based Chatham House think tank.
"The impact must be enormous today, I think, on every Egyptian and on the majority of people throughout the region. The fact that a head of state now is being held accountable for his deeds is a momentous moment," Azzam says.
She notes that few Egyptians believed Mubarak would actually appear in court. "So the fact that he has appeared in this cage has probably been something that has shocked some Egyptians and has created a great deal of disbelief in others," she added. "I don't think they could have believed this moment [would be] possible six months ago."
Any Chance Justice Prevails?
Beyond that psychological breakthrough moment, the question now arises as to what happens next. Having doubted that the tyrant and his cohorts would ever face their day in court, many still wonder whether the military authorities will allow them to be brought to justice. Lawyers for the families of those killed in February's upheaval argued on August 3 that they were under-represented compared to the huge legal team acting for the Mubaraks.
And as Azzam points out, it was the overwhelming weight of public opinion -- rather than an official desire to bring a tyrant to book -- that prompted the Supreme Military Council, headed by Field Marshall Mohamed Hussein Tantawi, a former Mubarak ally, to press ahead with the trial.
So the possibility of an elaborate charade -- however humiliating for the once-mighty president -- still exists.
Yet some see genuine hope beyond the symbolism. Nabil Abdel Fattah, an analyst with the Al-Ahram Center for Strategic and Political Studies, believes it represents an opportunity to enshrine democracy and the rule of law, before which all are equal.
"This first phase of the Mubarak trial is very important as a first step to Egypt building a new era from an authoritarian regime to a democratic system," Fattah says, "and especially a state of law and the predominance of modern law upon all the Egyptians, without any discrimination and without any exception."