Former Egyptian President Hosni Mubarak has denied all charges against him at the opening of his trial in Cairo.
Mubarak is charged with corruption and conspiring to kill protesters during the February uprising that ended his nearly 30-year rule.
"I completely deny all of these charges," the frail-looking 83-year-old defendant told the court.
If convicted over the killing of antiregime protesters, Mubarak could face the death penalty.
His sons, Gamal and Alaa, appearing in court alongside the former ruler, also pleaded not guilty to fraud charges.
After hearing the pleas from all of the defendants who appeared in court, the trial was adjourned until August 15.
Mubarak and former senior security officials are charged with ordering the killing of more than 850 protesters during the uprising earlier this year that brought an end to Mubarak's nearly 30-year rule.
Those charged over the killings include Mubarak's former Interior Minister Habib el-Adly along with six former top police officers. If convicted, they could face the death penalty.
Separately, Mubarak and his two sons, Gamal and Alaa, face charges of corruption. Hussein Salem, a business tycoon and close friend of Mubarak, also was facing corruption charges and is being tried in absentia.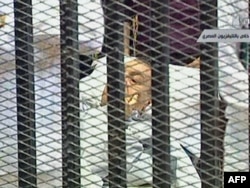 A TV video grab shows former President Hosni Mubarak being wheeled into a holding cell in the courtroom.
Mubarak, looking ill and weak, was brought into the courtroom on a hospital bed, where he was placed in a barred cage with his co-defendants while the charges were read out against them.
Mubarak was taken to Cairo for the court appearance by plane from a hospital in the Red Sea resort town of Sharm el-Sheikh, where he reportedly had been receiving medical treatment for health problems since April.
The trial is taking place at Cairo's Police Academy -- formerly called the Mubarak Police Academy. The court proceedings are being broadcast live on state-run television.
There were numerous outbursts in the courtroom as both Mubarak's supporters and his opponents shouted out slogans and pleas about the legal process -- leading the judge to warn those attending the trial to keep quiet during the proceedings.
Protesters have been determined to see Mubarak put on trial and were gathered outside the academy. But Mubarak's supporters also gathered outside the Police Academy compound.
There were some scuffles between the rival crowds, with the two groups throwing stones at each other -- despite the presence of security forces who cordoned off the crowds in separate areas.
Cairo resident Ayman Mohamed Baghat was among Mubarak's supporters.
"I remember when I was young that you had to reserve a refrigerator and there was sewage in the streets," Baghat said. "As I grew up, I saw Egypt being built in front of my eyes. And it is just not right. It is just not right that a man [like Mubarak] who has this type of CV, who has done what he has for his country, should be put through this. He is a leader and any country would hope to have someone like him."
Hundreds of military police also were deployed on August 3 in Cairo's Tahrir Square, the focal point of the spring uprising against Mubarak.
Army troops evacuated the square during the weekend, removing hundreds of protesters who have continued to camp out there to demand swifter political reforms.
Mubarak is the first Arab leader to appear in court to face a trial following the uprisings across the Arab world earlier this year.
Unlike Tunisian President Zine al-Abidine Ben Ali, who fled to Saudi Arabia after he became the first Arab leader to be ousted in the Arab Spring, Mubarak has vowed to die on Egyptian soil. Ben Ali was tried and sentenced to jail in absentia.
compiled from agency reports