Egyptians Await Results Of Constitutional Referendum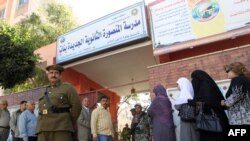 Egyptians are awaiting the results of a referendum on constitutional changes held on March 19, a little over a month after longtime authoritarian ruler Hosni Mubarak stepped down in the face of street protests.
Millions of people cast ballots in what early pundits described as a free and open vote following decades of elections that were rigged by Mubarak's regime.
The constitutional reforms, sponsored by the military council that has taken over since Mubarak's ouster, are aimed at setting the stage for parliamentary and presidential elections later this year.
The vote was reportedly mostly peaceful -- with one notable exception occurring when Nobel Peace Prize laureate and pro-democratic reform supporter Muhammad ElBaradei was pelted with rocks and bottles outside a Cairo polling center.
ElBaradei was among those who called for a "no" vote in the referendum, arguing that the constitution should be completely rewritten and that Egypt needs more time for political parties to organize before new elections.
Supporters of the amendments -- which, among other things, would open elections to independent candidates and impose presidential term limits -- have included the Muslim Brotherhood, which is considered a major force in Egyptian politics.

compiled from agency reports