PHOTO GALLERY: Egyptian protests enter a sixth day, amid increasing lawlessness, a rising death toll, and a spate of jail breaks.
Protests in Egypt against the rule of President Hosni Mubarak are entering into their seventh day today.
Reports say thousands of protesters were again gathering on Cairo's Tahrir Square where some protesters spent the night, ignoring a military curfew.
The protesters are demanding that Mubarak step down after 30 years in power. They have called for a general strike and what they hope will be a "million-men" protest march on February 1.
Opposition figure Mohamed ElBaradei has called on embattled President Mubarak to step down from power, saying Egyptians are beginning a new era in their national life.
ElBaradei spoke to crowds on the evening of January 30 in Tahrir Square.
"I came today to join you on the happiest day in our lives. Today I can look each one of you in the eye. Today as Egyptians, you have taken back your rights to life and freedom. What has begun cannot go back. As we said earlier, we have one main demand: the end of the regime and the beginning of a new stage," ElBaradei said.
ElBaradei, a Nobel Peace laureate and former head of the United Nations' nuclear watchdog agency, says he had been given a mandate by opposition groups, including the banned Muslim Brotherhood, to negotiate with the army and Mubarak's regime for a transition to a national unity coalition.
However, Mubarak has given no indication he is preparing to surrender. On January 30, authorities announced an extension of a night-time curfew. The president also ordered his newly appointed cabinet to preserve subsidies, control inflation and provide more jobs for Egyptians.
The 82-year-old Mubarak met with Defense Minister Mohamed Hussein Tantawi, Chief of Staff Sami al-Anan, and other senior military commanders, as well as Omar Suleiman, his former intelligence chief and close ally, whom he moved to the historically unoccupied post of vice president on January 29.
The talks were seen as potentially laying a path for a transition of power in the Arab world's most populous state.
Six Days Of Protests
At least 100 people have been killed and more than 1,000 injured since protests began in Cairo and quickly spread to other Egyptian cities.
The army was brought in on January 29 to replace the country's police force, which had enraged the public by using firearms and tear gas to subdue protests.
Saad Zaghloul, the managing editor of the Cairo-based "Alborsa" newspaper, tells RFE/RL that Egyptians welcomed the change, but are waiting to see what happens next.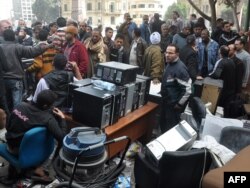 Egyptians surround goods looted from the Arcadia mall in Cairo on January 29.
"The army is present here in Cairo, and there is still a lack of security in most places," Zaghloul says. "But I think the armed forces are doing their best to cover all the places, and I think everybody here is waiting for news about the new government and to make sure there is security."
Jet fighters and army helicopters on January 30 filled the skies over Cairo as a reminder of the military's new role in tamping down the unrest. It comes after a second night of lawlessness in which mobs took advantage of police-free streets to loot supermarkets, banks, and even the Egyptian Museum, home to some of the world's most treasured ancient artifacts.
Mubarak To Go?
The spiraling violence, which followed similar public uprisings in Tunisia and Yemen, has sparked mounting concern among neighboring states and the international community.
Maha Azzam, an Egyptian-born analyst with London's Chatham House think tank, says the situation in the country has grown so dire that it will have ramifications throughout the region. She adds that Mubarak's ouster is no longer a question of if, but when.
"It's certainly quite evident now that he's going to have to step down," she says. "The protesters are not going to accept anything less than a change of regime. And the first step towards that is the removal of Mr. Mubarak."
Muslim Brotherhood Joins Talks
The potential of Mubarak's departure has fanned speculation that any future government in Egypt will feature an Islamist faction.
Egypt's largest opposition group, the banned Muslim Brotherhood, said on January 30 it was in talks with other antigovernment figures to form a national-unity government without Mubarak and his ruling National Democratic Party.
Essam el-Arian, a leading member of the Muslim Brotherhood, announced that the group had agreed to support ElBaradei as a negotiator with Mubarak's regime.
The Muslim Brotherhood also said 34 of its jailed members walked free on January 30 following a prison break northwest of Cairo. Prisoners have escaped from several major jails across Egypt in recent days as police discipline flagged amid the growing anger in the country.
But Chatham House's Azzam says the Muslim Brotherhood is united with other opposition groups in seeking a democratic government to take the country of 80 million forward.
"I think that the Muslim Brotherhood, if they wanted to cause problems, would have done so by now. On the contrary, their grassroots supporters are among the protesters chanting for the fall of Mubarak, Azzam says.
"I think what they would call for, equally with other opposition groups in Egypt, is free and fair elections, which would be inclusive of all political parties and all shades of political orientation."
WATCH: Tensions remained high in the Egyptian capital, Cairo, on January 29 as some 2,000 protesters confronted tanks and called on President Hosni Mubarak to resign (video by Reuters).
Shock Waves Across Region
The announcement by the Muslim Brotherhood coincides with the return of an Islamist leader to Tunisia after 22 years in exile.
Sheikh Rachid Ghannouchi was greeted by thousands of Tunisians upon his return, and indicated that his Ennahda party would emerge as a major force in Tunisia after the ousting of that country's president earlier this month.
The confluence of events is sending shock waves through the Middle East and beyond. Palestinian authorities have closed the border crossing with Egypt, and Israeli Prime Minister Binyamin Netanyahu told reporters he was watching developments "attentively" and with the aim of maintaining "stability and security" in the region.
UN Secretary-General Ban Ki-moon, speaking on January 30 at the African Union summit in Addis Ababa, Ethiopia, urged "restraint" and "nonviolence" in Egypt, and called on political leaders worldwide to take a lesson from the unfolding events that country.
"Around the world, the leaders, we must listen attentively, more attentively and more sincerely to the voice of the people, their aspirations, their challenges, their hopes for a better future," Ban said.
Uncertain In Egypt
Within Egypt, there are still signs of a news crackdown, with the country's outgoing information minister ordering the closure of the pan-Arab satellite channel Al-Jazeera, which has broadcast near-nonstop coverage of the antigovernment protests.
Al-Jazeera has confirmed that some of its satellite transmissions have been blocked.
The United States, Israel, Turkey, and other countries have taken measures to evacuate their citizens from the country. But Washington and most Western European countries, though calling for restraint, have stopped short of calling for Mubarak's ouster.
Mubarak, whose country together with Israel are the largest recipients of U.S. aid, has positioned himself as a key Western ally in the fight against terrorism in the Middle East.
His departure, while deeply sought by the Egyptian public, would cast into uncertainty much of Western foreign policy in the Arab world.
written by Daisy Sindelar, with agency reports