Egyptian City Of Alexandria Prepares For Fresh Protests
WATCH: On January 28 in Alexandria, peaceful protests turn to violence. Eyewitness Moustafa Zaghloul captures angry chants and burned-out vehicles.
Alexandria's picturesque harbor and long beaches have long made it the center of Egyptian domestic tourism. Now it is making its case as the center of the biggest antigovernment protests outside Cairo.
Alexandria, second only to Cairo in terms of population, is gearing up for a massive protest on February 11 against the continued rule of President Hosni Mubarak.
The rally's numbers stand to be bolstered by the resumption of normal train service across Egypt, opening the possibility that the northern coastal city's homegrown protests -- overshadowed by, but whose violence preceded, those in the capital -- could reach a peak.
Anti-Mubarak protesters flocking to Alexandria from major cities in Egypt's Nile Delta region could benefit from far better organization than that seen on January 28, when Alexandria saw its first semi-spontaneous protest march.
"Now I believe the protests are a lot more organized," says local resident Moustafa Zaghloul, a descendant of noted Egyptian nationalist and native son Saad Zaghloul.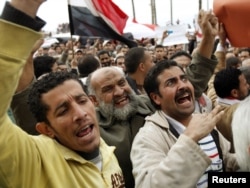 Protesters chant antigovernment slogans during demonstrations against President Hosni Mubarak in Alexandria.
"But every day we hear about [Qaib] Ibrahim Mosque in downtown Alexandria, and that is like the center point of where most protesters gather and any time of the day or the evening you drive past there, there are people still there."

Better Organization
Zaghloul, whose famous grandfather was briefly exiled by the British only to return to become one of independent Egypt's first prime ministers in 1924, says protesters have also changed tactics.
Instead of marches along the city's lengthy coastal road, he says, they plan to occupy a central location -- similar to the strategy used by protesters in Cairo. The strategy may also prevent the kind of violence seen in Alexandria's first major protest.
Although they paled in comparison to the size of the Cairo events, the strength of Alexandria's initial protest was notable, considering the obstacles organizers faced after Internet and cell-phone services were shut down.
Zaghloul points out that on January 27, the day before the demonstration, "the Egyptian government had pulled the plug on the cell phones and the Internet. It was actually a big mistake because these were the two main sources of entertainment here in Egypt."
March Explodes Into Violence
Alexandria's kilometers of beaches winding along the Mediterranean coast make it a tourist draw for Egyptian tourists, but are a hindrance to protest organizers because they cannot concentrate in one area.
One notable exception is the Qaib Ibrahim Mosque, which has long served as a center for protests and is expected to be the main rallying point on February 11.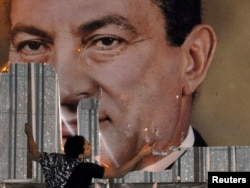 A protester defaces a picture of President Hosni Mubarak in Alexandria.
Marchers assembled at the mosque on January 28 before joining up with protesters from other groups and mosques and making their way east along the city's corniche. There the protesters, many of whom had made a snap decision to march, encountered problems.
While the protests started peacefully, things got tense early on when police in Alexandria threw water bottles at protesters. Marchers received word that riot police awaited ahead at the central Stanley Bridge but, with Internet and phones down, they had no way to confirm this.
"I drove for about a mile and I found them [riot police] waiting for the protesters on the Stanley Bridge and then I went back and let the protestors know," Zaghloul says.
In response, the protesters stopped and bunched up to intimidate the police with their numbers. At some point the tense situation gave way to violence, with protesters throwing rocks and riot police responding with tear gas.
"There were clashes but then it got out of control," explains one young participant who declined to provide his name. "The police cars started driving toward the people, so they stopped the cars and got on top of the armored cars and attacked the police inside. The police ran out of the armored vehicles and ran toward the corniche."
The violence that ensued was perhaps captured most startlingly by a cell-phone video showing police shooting an unarmed protester in the city's central Manshya district in Alexandria.
Army Separates Fighting Camps
Advance elements of the Egyptian Army were deployed to the city on the night of January 28. The army found local residents had rushed to form human chains around the modern library and also to secure the Jewelry Museum and the historic Qiatbey Citadel, built on the foundations of the famous Lighthouse of Alexandria.
More army forces began to rush into Alexandria the next day. On the night of February 1, pro-Mubarak and anti-Mubarak clashes broke out on a public square near Alexandria's train station. The military used tanks and armored personnel carriers to separate the protesters.
It wasn't until the next day that serious fighting between pro-Mubarak and anti-Mubarak protesters broke out on Cairo's Tahrir Square. And in that case, the military did not intervene.
"Pro-Mubarak protesters with sticks and knives and stuff entered the crowd and they started attacking each other," Zaghloul says. "And this was the first time where I saw the pro- Mubarak protesters attacking the anti-Mubarak protesters and it was not till later that evening did they start attacking them inside of Tahrir Square."
Crime Becomes Primary Worry
Alexandria has not seen clashes since February 1, but security remains a serious issue for many Alexandria residents. The military has used harsh methods in dealing with looters. In at least one incident, a group of looters captured by volunteers participating in a neighborhood watch were caned by members of the military in full view of onlookers.
In some of the nicer districts of the city, such as the Saba Basha neighborhood near Stanley Bridge, tanks remain deployed on the streets.
But elsewhere, the type of crime that was once rare under the Mubarak police state has reemerged. City Center, Alexandria's showcase shopping mall, has been looted. And with many high-profile shops in the city already targeted, criminals have begun to change their tactics.
After the army withdrew from the densely populated Sidi Bishr neighborhood in eastern Alexandria, local resident Rehab Aly-Fouady says, criminals resorted to deadly force while trying to gain access to an apartment building on February 6.
"One of the buildings [in Sidi Bishr], some of the criminals came into and they killed [a] porter and his wife to get into the building," she says.
That incident was halted when screams sent an army patrol rushing to the scene.
But while life has returned to nearly normal in some districts -- trash collection resumed a few days ago, for example -- many Alexandria residents say the lack of security continues to be the most pressing issue.
"Until now we are living in a panic because of the criminals," Aly-Fouady says. "I'm really afraid if any of the criminals came or something, there is no one to call, there is no one to call."
As she stirs her tea, Aly-Fouady explains that as the February 11 protests neared, individual tenants were installing steel doors on their apartments to deter looters and criminals.