Egypt Protests Continue, Despite Government Concessions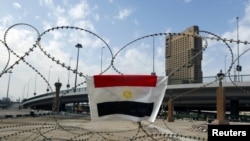 Protests have continued in the Egyptian capital, after thousands of demonstrators camped overnight at the city's central Tahrir Square.
Some of the demonstrators barred access to the square's main administrative building, frustrating efforts by residents to process passports and birth certificates.
Other protesters sat directly in the path of military tanks surrounding the square, preventing the army from retreating and leaving the activists vulnerable to pro-government thugs.
The government, seeking to curb economic losses estimated at more than $300 million daily, has promised concessions, including constitutional reforms.
Today it also announced a 15 percent increase in salaries and pensions for government employees.
The number of protesters has dwindled since swelling to hundreds of thousands last week amid growing calls for the country's president for the last 30 years, Hosni Mubarak, to step down.
But the mood remains defiant, with protesters rejecting a number of concessions from government negotiators and saying they will not abandon the demonstrations until Mubarak is out.
Although protesters remain in Tahrir Square and have planned more mass demonstrations on February 8 and 11, life has begun returning to normal in Cairo.
Traffic was noticeably up on city streets and many businesses reopened for the first time in days. Banks also reopened after a weeklong closure. Schools, however, remained closed.
Mubarak's key ally and potential successor, Vice President Omar Suleiman, attempted on February 6 to appease protesters by inviting some opposition groups, including the banned Muslim Brotherhood, to participate in talks on democratic reforms.
A government spokesman said the parties had agreed to form a committee to draft a series of constitutional and legislative reforms. Negotiators also agreed to open an office for complaints about the treatment of political prisoners and to loosen media restrictions.
But Suleiman, Egypt's former intelligence chief, stopped short of saying he would agree to step in for the 82-year-old Mubarak, a key opposition demand that would help clear the way for a political transition.

'Egypt Is Not Going To Go Back'
Western leaders have shown little outward support for Mubarak since the start of the protests, although few have called on him openly to resign.
Washington -- which provides more than $1.5 billion in annual foreign aid to Egypt and long considered Mubarak key to its Middle East strategy -- has indicated Mubarak should step down when his term expires in September, but has stopped short of endorsing demonstrators' calls for him to leave sooner.
Speaking to American broadcaster Fox News, U.S. President Barack Obama said Egypt had changed forever as a result of the massive protests that first broke out nearly two weeks ago.
"Egypt is not going to go back to what it was. The Egyptian people want freedom, they want free and fair elections, they want a representative government, they want a responsible government," Obama said.
Today Obama said Egypt was "making progress" toward a solution to the political crisis enveloping the country.
That satisfied view was reinforced by White House spokesman Robert Gibbs, who said that "monumental change" already had taken place in Egypt.
State Department spokesman Philip Crowley stressed again -- as he did last week -- that Mubarak departure's would start the clock running on a two-month deadline for the disparate opposition to organize, campaign, and run in elections.
"If President Mubarak stepped down today, under the existing constitution as I understand it, there would have to be an election within 60 days," Crowley said.
"A question that that would pose is whether Egypt today is prepared to have a competitive, open election given the recent past where, quite honestly, elections were less than free and fair."
The continued uncertainty -- which follows similar unrest in Tunisia and Yemen -- has caused a spike in worldwide oil prices, with worries the Egypt events could spread to still other parts of the Middle East and North Africa, disrupting energy supplies.
with agency reports