Egypt's state-run "Al-Ahram Daily" has a new feature in its newsroom these days -- armed military guards.
Their presence is evidence of the stark divisions that exist within the country's state-controlled media, even as things slowly return to normal after the antigovernment protests that rocked the country only weeks ago.
Since Hosni Mubarak stepped down and a military junta stepped in, efforts have been made to dismantle the media propaganda machine employed by the former regime.
The Orwellian-sounding Ministry of Information has been abolished, state media officials and employees have been dismissed, and in some cases prosecutions have begun. But Egyptian journalists continue to press for more reforms, and some question the need for state media at all.
Hani Shukrallah, editor of "Al-Ahram Online", describes the events that unfolded at the newspaper's offices after Mubarak resigned on February 11.
Shukrallah says the newspaper's editor-in-chief, Osama Saraya, was caught trying to remove documents related to the Mubarak era from the building, leading reform-minded employees to call in the Egyptian Army.
"If you go to the 'Ahram Daily' newsroom -- which is the whole floor, it's huge -- it's now surrounded by military," Shukrallah says. "You've got soldiers standing everywhere for two reasons apparently: prevent the editor or anybody else from his staff from smuggling out relevant documents, and also to maybe give him some protection from journalists [and prevent them from] beating him up."
The Al-Ahram conglomerate was just one piece of the former government's media puzzle, which included several television stations and channels, as well as numerous print and online outlets. Al-Ahram has Arabic- and English-language departments, as well as a political think tank, which aided the newspaper's ability to promote the state line.
Shukrullah says the actions of some Al-Ahram employees during the 18 days of protests that led to Mubarak's resignation were criminal.
"In fact, I believe that some of them, especially in state TV, were inciting massacres [and] were inciting murder. And they are liable for criminal charges," Shukrullah says.
Demands For Objectivity
A 2010 Freedom House study of media freedom ranked Egypt 130th out of 196 countries. The study stands as a testament to how badly the media situation deteriorated during Mubarak's 30 years of rule, considering that it could be argued that the country was freer than neighbors on both sides of the Mediterranean under King Farouk's rule in the 1930s and 1940s.
Among the more visible steps to improve the country's media situation was the arrest of former Information Minister Anas Al Fiqqi. Calls, too, have been made for media figures, including "Al-Ahram Daily" Editor-in-Chief Saraya to resign.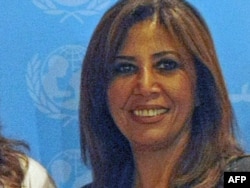 Journalist Shahira Amin quit her job with state TV
But Shukrallah says more such house-cleaning would only be cosmetic. "It goes beyond removing people and appointing new ones. You need a whole overhaul of state-owned media," Shukrallah says.
During the closing days of the Mubarak regime some junior-level employees of state media went to Tahrir Square, the center of protests in Cairo, to call for media reform. Following Mubarak's fall, they have been meeting to draft their own opinions on where to go from here.
"There are groups within the [Al-Ahram] organization now that are monitoring [the situation, making suggestions,] writing up ideas, and making lists of demands [of] how to change the organization to make it appropriate to a democratic system," Shukrallah says.
Their demands include more objective reporting, better pay for journalists, and more resignations of the old guard. In the case of "Al-Ahram," a boycott of the newspaper has been organized on a Facebook page boasting 9,000 "friends."
Turning things around in a state-media environment that has for decades suffered from nepotism and corruption wont be easy.
Former Nile TV anchor Shahira Amin, who resigned from state television during the height of the anti-Mubarak protests, has been active in reform efforts and provides some insight into the difficulties ahead.
"It was an uphill struggle for me to do my job because of the resistance. Many of the journalists there have connections with someone. I wasn't able to hire qualified people because they [upper management] would always chase them away," Amin says.