Egyptian Referendum Outlines Future Political Course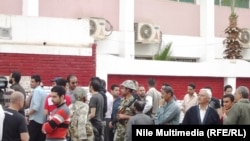 Egypt's constitutional referendum has been hailed as a success, but the victory of the "yes" campaign spearheaded by the Muslim Brotherhood suggests a major role for the Islamists in the country's political future.
The March 19 poll, organized nearly a month after the end of President Hosni Mubarak's 30-year rule, saw 77 percent of the vote go in favor of constitutional changes aimed at setting the stage for parliamentary and presidential elections later this year. Voter turnout was estimated at about 41 percent, according to official results announced March 20.
The amendments, sponsored by the military council that took power on an interim basis after Mubarak's ouster, were backed by various political forces, including the Muslim Brotherhood. But they were opposed by advocates of reform, who argued that the entire constitution should be rewritten and that Egyptian parties needed more time to organize before any elections were held.
Critics say early elections could favor Islamists as well as political figures affiliated with Mubarak's National Democratic Party.
Mohammed Ahmed Attiyah, head of the judicial oversight committee responsible for organizing the referendum, said the vote proved that Egypt is well on its way to becoming a truly democratic state.
"I gave orders to the heads of the polling stations to facilitate the monitoring of the referendum for all of the civil society organizations so that they can bear witness to how democracy is now practiced in Egypt," Attiyah said. "The people of the world can learn that Egypt has become a true democratic state, now governed by the people."
Outcome Not A Foregone Conclusion
Among the changes approved was a restriction preventing a president from serving for more than eight years, making Egypt one of few Arab republics to set such a restriction. The vote was also the first in recent memory in the country whose outcome was not a foregone conclusion, and the referendum was widely seen as transparent.
Liberal groups and secular-leaning groups nevertheless decried the poll, saying it provided the Muslim Brotherhood an opportunity to mobilize its large organizational machine. They accuse the Islamists of spreading false rumors by casting the vote as a contest between forces committed and opposed to preserving Egypt's Islamic character.
Potential presidential candidates Mohamed ElBaradei and Amr Moussa -- a former Nobel laureate and Arab League secretary-general, respectively -- opposed the vote. Their inability to mobilize people in favor of the "no" campaign now casts doubts on their ability to win the presidential vote.
Speaking to RFE/RL Radio Free Iraq on March 19, voter Sayyeda Abdul Haq highlighted the monumental challenge of educating Egypt's more that 40 million electorate in democracy this summer.
"I agreed with the amendments," she said, "because I think they'll be beneficial to me. I said 'yes' to changing parts of the constitution so that I and my country could profit. But there is a lack of political awareness among many women, especially housewives."
compiled from agency reports