Violence Continues Across Arab World, As Egypt Celebrates
WATCH: Many thousands of Egyptians gathered today to celebrate the fall of Hosni Mubarak with a victory march on Tahrir Square. A formally banned preacher, Yusuf al-Qardawi, delivered a sermon intended to unite Christians and Muslims (video by Reuters).
Thousands of people are out on the streets of cities across the Arab world again today, mourning protesters killed in antigovernment demonstrations.
Many today attended funerals for protesters killed by government forces in Bahrain and Libya, Yemeni protesters continue to put their lives on the line, and the Iranian opposition prepared to bury its dead after clashes earlier this week.
The only country not wearing black is Egypt, which today holds a victory march celebrating the February 11 overthrow of former President Hosni Mubarak.
Mohammed Hosn is one of many Egyptians gathering in Cairo's Tahrir Square to mark the event. He told Reuters that everyone was excited.
"We are here to celebrate the revolution. Firstly we must remember our martyrs," Hosn said. "We've come to Friday Prayers together to solidify the revolution because not everything has been achieved but the most important demand -- [Mubarak's] resignation -- has happened."
Egypt's antigovernment protests, which began late last month and continued for 18 straight days, captivated the world. The Egyptian president's overthrow followed the ousting of longtime Tunisian President Zine el-Abidine ben Ali.
Mourning In Yemen, Bahrain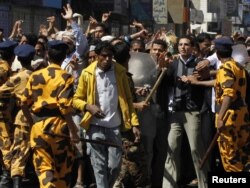 Yemeni police hold back antigovernment protesters during a demonstration in Sanaa on February 18.
This week, solidarity demonstrations and similar uprisings are being seen in Bahrain, Iraq, Libya, and Yemen.
Reports from Yemen say tens of thousands of people demonstrated across the country today as antigovernment protests stretched into their eighth day.
One protester reportedly was shot dead as police tried to disperse crowds in the southern city of Aden. Another person was killed and seven were wounded by a hand grenade that was thrown from a car into a crowd in the town of Taiz, south of the capital.
Tens of thousands of antigovernment protesters thronged Taiz, where pro-government crowds also turned out. There were smaller rival demonstrations in the capital Sanaa.
Protesters want President Ali Abdullah Saleh to end to his 32-year rule.
Meanwhile, in Bahrain, soldiers shot tear-gas canisters and fired into the air today as thousands of Bahraini protesters defied a government ban and streamed toward the central Pearl Square in the capital, Manama.
The violence reportedly resulted in scores of wounded, although there were no immediate reports of any deaths.
The violence came hours after mourners at the burials of protesters killed in a brutal police crackdown on February 17 called for wide-ranging political reforms on the Persian Gulf island, whose population is 70 percent Shi'ite but is ruled by a Sunni Muslim monarchy.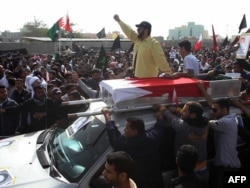 Antigovernment protesters attend the funeral of a man killed the day before during a violent police raid in Bahrain on February 18.
Four protesters were killed and more than 200 wounded when security forces cleared hundreds of demonstrators from Pearl Square in the early hours February 17.
The White House has expressed "strong displeasure" about violence by security forces in Bahrain, where the U.S. Navy's 5th Fleet is based.
The latest deaths brought to at least six the number of protesters killed this week in Bahrain.
'Day Of Rage' In Libya
In Libya, forces loyal to Muammar Qaddafi, the Arab world's longest-serving ruler, today threatened a "sharp and violent" response to "adventurers" demonstrating against the establishment.
Libya's Revolutionary Committees, a pillar of Qaddafi's regime, made the threat in an online statement. The message comes as hundreds of Qaddafi supporters rallied in the capital, Tripoli. Qaddafi himself made a brief appearance among his supporters.
Protests, meanwhile, have continued in the country following the February 17 "Day of Rage" against the government.
Antigovernment protesters in the Libya today reportedly set fire to the headquarters of state-run radio in the eastern city of Benghazi. The AFP news agency quoted witnesses who said demonstrators stormed the building and torched it after security guards left during the afternoon.
A government official who confirmed the accounts described the action as "a crime against the security and stability of the country."
Troops have been reportedly deployed in the country's second-largest city, Benghazi, after massive protests on February 17. Thousands of protesters reportedly showed up again in the city today.
New York-based Human Rights Watch said the confrontations between security forces and protesters have left 24 people dead in Benghazi.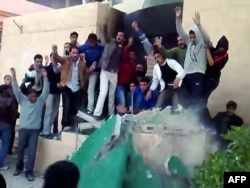 Antigovernment demonstrators destroy a monument to leader Muammar Qaddafi's Green Book in Tobruk on February 17.
Opposition sites, meanwhile, reported that protesters have taken over the nearby town of Al-Bayda, Libya's third-largest, and were fighting against security forces. The report could not be independently confirmed.
Funerals of some of those killed are expected to be held today.
In Iraq, meanwhile, Kurdish security forces today reportedly opened fire on a crowd of protesters calling for political reforms in northern Iraq, killing at least two people.
Iraq has seen small-scale demonstrations against government corruption almost daily in recent weeks.
International Condemnation
Amid the protests, the top UN human rights official said today that security forces in countries like Libya and Bahrain had used illegal and excessive force in response to legitimate demands from their people.
United Nations High Commissioner for Human Rights Navi Pillay also condemned the killings of protesters in Algeria, Bahrain, Iran, Iraq, Libya, and Yemen.
Pillay said in a statement that the Middle East and North Africa region "is boiling with anger."
She condemned as "illegal and excessively heavy-handed the response of a number of governments in the Middle East and North Africa to the legitimate demands of their people."
Her statement was echoed by U.S. President Barack Obama. White House spokesman Jay Carney said Obama was "deeply concerned" by reports of violence from Bahrain, Libya, and Yemen, and urged those government to show restraint in dealing with protesters.
compiled from agency reports