ASTANA -- A group collecting signatures in support of a referendum to greatly extend Kazakh President Nursultan Nazarbaev's tenure says more than half the country's eligible voters have backed the plan, RFE/RL's Kazakh Service reports.
Outsiders and the president's political opponents have criticized the scheme as backsliding following some democratic gains in Kazakhstan, where Nazarbaev has held a tight grip on power for more than two decades.
Academic Erlan Sydyqov, head of the self-styled initiative group that raised the referendum idea last month, claims it has collected more than 5 million signatures from voters supporting the proposal.
Kazakhstan has around 9 million registered voters.
Sydyqov made the announcement at a press conference in Astana along with two other leaders of the group, General Bakhytzhan Ertaev and parliamentary deputy Anatoly Bashmakov.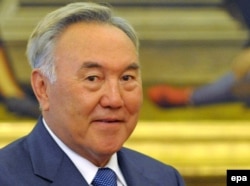 Kazakh President Nursultan Nazarbaev
The proposed national referendum would prolong Nazarbaev's term in office -- set to expire in 2012 -- until 2020, more than three decades after he took power.
According to Sydyqov, his group has written to Nazarbaev and to the Kazakh parliament urging the latter to discuss its initiative.
Bashmakov said the issue has been included in the agenda of the joint session of the parliament's upper and lower chambers (Senate and Mazhilis) scheduled for January 14.
Bashmakov's group submitted the signature drive's documents to Kazakhstan's Central Election Commission on January 11.
Nazarbaev, Kazakhstan's leader since 1989, last week rejected appeals by both houses of parliament to hold a referendum to extend his term in office.
But Bashmakov said at the January 12 press conference that he is fully confident that the initiative group's proposal will be supported, and that parliament will override
Nazarbaev's rejection
of such an extension.
Amendments to the constitution adopted in 2007 removed the limit on the number of terms Nazarbaev may serve as president.
In May 2010, Nazarbaev officially rejected a lawmakers' initiative granting him the status of "leader of the nation." But he did not veto the bill, which eventually came into force and granted him and his family privileges and immunity from prosecution.
The Organization for Security and Cooperation in Europe criticized Kazakhstan's 2005 presidential election as unfair, but said it represented an improvement on previous votes.
The United States' outgoing envoy to Astana
expressed disappointment
with the notion of such a referendum.
Read in Kazakh
here