A 25-year-old U.S. man who was paralyzed from the chest down has been able to stand in a potentially ground-breaking project to deliver electrical stimulation to his spinal cord.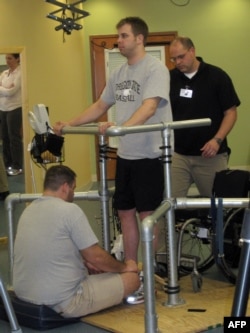 A photo released on May 19 of Rob Summers, a paraplegic, standing with the aid of support in therapy in Louisville, Kentucky
According to research in the medical journal "Lancet," Rob Summers, from Oregon, can voluntarily move his toes, hips, knees, and ankles and also walk on a treadmill while being supported.
The man was hit by a car in 2006, damaging his spinal cord. Messages from the brain, which used to travel down the spinal cord, were blocked and he was left paralyzed.
In the experimental project, doctors surgically implanted 16 electrodes into his spine.
Summers trained daily in trying to stand, walk, and move his legs, while electrical pulses were sent to the spinal cord.
Four more patients are being enlisted to further test the treatment.
compiled from agency reports