EU Presidency: Ukrainian Government Has 'Lost Credibility'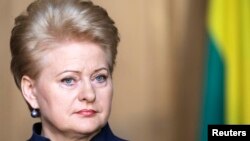 The current president of the European Union says the door to a closer partnership with Ukraine remains open, but that the people of Ukraine -- and not necessarily the current government -- should decide their future.

"Europe is open for [the] Ukrainian people, but not necessarily for this government. That's the message," Lithuanian President Dalia Grybauskaite, whose country holds the rotating EU Presidency, told an EU summit in Brussels on December 20.

EU leaders are meeting in Brussels to discuss the aftermath of Ukraine's rejection of a trade-and-association deal with the bloc.

Grybauskaite said the government of President Viktor Yanukovych had "lost credibility with the EU" when it refused to sign the Association Agreement at a summit in Vilnius last month.

The surprise move triggered mass protests by Ukrainians against Yanukovych's government.

But Ukrainian officials said the EU had not offered enough aid to enable the country to sign, and the government this week received a $15 billion financial bailout from Russia, which had pressured Kyiv not to sign the EU deal.

Speaking at the final news conference of the Brussels summit, European Council President Herman Van Rompuy said the EU was willing to sign the Association Agreement with Kyiv "as soon as the country is ready."

"The future of our relations is for the long term. We can't let that be compromised by short-term calculations, by outside pressure. It must be a free choice," Van Rompuy said.

"To my mind, the future of Ukraine lies with Europe. One can try to slow it down, to block it, but in the end no one can prevent it."

An association deal is seen as a key step on the path to possible EU membership.

EU Commission President Jose Manuel Barroso said talks with Ukrainian officials since the Vilnius summit were "never followed by a clear indication of a commitment" by the authorities to sign the Association Agreement.

"That is why we believe that it was not worthwhile now continuing what could be seen as just a way of keeping a dialogue without concrete results," he added.

'We Are Not In A Bazaar'

Earlier in the day, Finnish Prime Minister Jyrki Katainen rejected Ukrainian calls for more financial help, saying, "This is not a question of money." He added, "Signing an Association Agreement is a value choice and we cannot buy any countries for the European Union."

Luxembourg Prime Minister Xavier Bettel said the EU should keep Ukrainians' hopes alive, but added, "We're not carpet traders."

Bettel echoed remarks made by Andreas Schockenhoff, deputy chairman of Chancellor Angela Merkel's Christian Democratic Union in the Bundestag and Germany's commissioner for German-Russian coordination, in an interview with RFE/RL's Balkan Service on December 19.

"We are not in a bazaar. The EU negotiated the Eastern Partnership with an Association Agreement, and we are not dealing to put more money on the table," Schockenhoff said. "It is very comprehensive societal and political approach, and it is not an oriental bazaar."


With reporting by Reuters, Interfax, dpa, and Delfi.lt