BRUSSELS -- The EU commissioner for humanitarian aid, Kristalina Georgieva, is on her way to the Libyan-Tunisian border to oversee UN efforts to help the thousands of refugees fleeing the violence in Libya.
UN refugee agency spokeswoman Melissa Fleming said today that more than 180,000 people had escaped the turmoil in the North African country over the last several days and were now gathered in the border areas of Tunisia and Egypt.
Georgieva plans to meet with aid workers on the ground and discuss the situation with border authorities.
The European Union plans to increase its financial aid from 3 million to 10 million euros ($4.2 million to $13.8 million) and direct the funds toward medical equipment and shelters.
Georgieva told RFE/RL that more financial assistance could eventually be provided but that cash wasn't the main problem at the moment.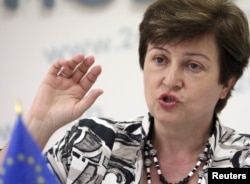 European Commissioner for International Cooperation, Humanitarian Aid, and Crisis Response Kristalina Georgieva (file photo)
"Money is tight, but at this moment money is not the main constraint," Georgieva said. "It is an ability to deploy in rapidly changing circumstances and to deploy in a country which has been pretty much isolated from the world, where our information about needs is very limited."
The EU commissioner said complicating matters is the fact that many highly qualified medical personnel had also fled the country, making the situation on the ground worse.
Fears Of Refugee Wave
The large number of refugees is worrying some EU member states, who fear a large influx of people to the EU. But except for a wave of 6,000 Tunisians who arrived on the Italian island of Lampedusa after the revolution in that country, there has been no sign of large-scale immigration.
Georgieva said she expected to see some increase in the number of people seeking refuge on European shores, but nothing significant.
"Actually, today the reports are that not a big group, around 300 to 400 Tunisians, have come to Italy. Maybe because also the weather has settled down a little, it was a rough sea," Georgieva said.
"Apparently most of them appear to be relatives to people already there [in Italy]."
EU leaders agreed earlier this week to impose visa sanctions on, and freeze the assets of, Libyan leader Muammar Qaddafi and his closest associates.
They will also discuss Libya at an extra summit in Brussels on March 11, where one of the issues on the agenda will be the possible establishment of a no-fly zone over the country.
Humanitarian Action
Georgieva refused to speculate on whether European powers were considering military intervention in Libya, saying only that the international community must respond to the human suffering that is taking place.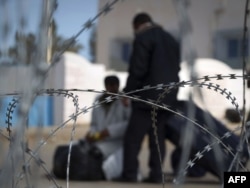 Egyptians trying to flee Libya sit behind barbed wire at the Ras Jedir border post in Tunisia.
"As a humanitarian, as a humanitarian commissioner, anything that can be done to reduce people's suffering, I am for it. But this is not my call," she said.
"What I can do to serve the international community is to say these are the fact, this is what is happening. That is why, for me access into Libya is very important so that we can have an informed call for action."
British Prime Minister David Cameron said Britain today began an airlift to help Egyptians stranded on the Libyan-Tunisian border get back home. The British planes, departing from Djerba, Tunisia, will help evacuate up to 8,800 Egyptian migrants to Cairo.
Spanish Prime Minister Jose Luis Zapatero, on a visit to Tunisia today, told reporters that Spain had already sent a plane with 30 tons of humanitarian aid to the Libyan-Tunisian border and had another plane available.
France also announced an airlift and naval operation coordinated with the European Union. Large airliners and a French Navy ship were heading to the region to evacuate at least 5,000 Egyptian refugees.