BRUSSELS -- European Union foreign ministers have met in Brussels to try to bridge their differences over the ongoing crisis in Libya.
Several EU member states, including France, Britain, Italy, Spain, and Poland, are part of the international coalition that began enforcing a no-fly zone over Libya last weekend and conducting air strikes against forces loyal to Colonel Muammar Qaddafi.
But one of the EU's most important members, Germany, abstained from the UN Security Council vote on the resolution authorizing the use of force and has declined to contribute to the mission.
Speaking to RFE/RL on the sidelines of the March 21 meeting, German Foreign Minister Guido Westerwelle said recent criticism of the air strikes from Arab League Secretary-General Amr Musa have justified Berlin's cautious stance.
"It is the responsibility of every country to decide if they will support a military intervention or not," Westerwelle said. "And the German government has made it clear from the first day of the crisis that we will not participate with German soldiers. This does not mean that we are neutral. This does not mean that we have any sympathy for the dictator Qaddafi. But it means that we see the risks. And when you listen closely to what the Arab League said, unfortunately it seems there were reasons for our concern."
Westerwelle stressed, however, that Germany is prepared to offer humanitarian assistance, and he downplayed any rift in the EU over the issue.
"Our aim, our goal, as the German government is to protect civilians. This is our humanitarian engagement, and therefore we will do a lot to support the people and of course support the opposition and support all those forces that really want democracy," he said. "But as a German government, we have full respect to all other members of the EU who decided to support this military intervention."

'No Contradiction'

The Arab League's support for a no-fly zone was decisive in getting the Security Council to support the idea. Dutch Foreign Minister Uri Rosenthal stressed that the Arab League continues to back the mission.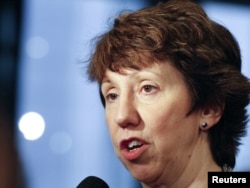 Catherine Ashton: "Different member states contribute in different ways."
"I do hope that the Arab League will take part in the execution of the 1973 resolution," Rosenthal said. "Of course, there might be some things [that need] to be sorted out. But I expect the Arab League to endorse the resolution also in the coming time."
At a press conference in Cairo on March 21 with UN Secretary-General Ban Ki-moon, Musa appeared to back off his criticism, saying the Arab League respects the resolution and has "no contradiction" with it.
Catherine Ashton, the EU's foreign affairs chief, also downplayed differences among the bloc's members and said Brussels would coordinate humanitarian efforts among all member states.
"I think that if you've been at the meeting I was at in Paris on Saturday, what you have from that meeting is a communique signed up to by all countries present, including Germany," she said. "Different member states contribute in different ways. Today, with the EU, our role is to look at humanitarian, economic, political aspects and that is what we will be doing. There is unanimity about this."
EU foreign ministers did, however, agree to extended the travel ban and the freeze on assets to another 11 Libyan officials and its assets freeze to a further nine Libyan companies. The names of the individuals and companies were not mentioned, but a fund was announced that will be created from the frozen assets to finance humanitarian assistance to Libya.
NATO Command?
Meanwhile, NATO ambassadors are also meeting in Brussels on March 21 and March 22 to debate whether the Western alliance should take over the command of the military operation from the United States, as U.S. Defense Secretary Robert Gates has suggested.
NATO members Germany and Turkey are skeptical about such a move, with Ankara proving particular critical. Turkish Prime Minister Recep Tayyip Erdogan said support was possible but only if NATO's operation does not turn into an occupation.
Speaking during a visit to Saudi Arabia, he said, "NATO should only enter Libya to determine that Libya belongs to Libyans and not to distribute its natural resources and richness to others."
Diplomats suggested that Turkey was angered by its exclusion from the summit in Paris over the weekend. Turkish envoys warned that NATO's participation in the air strikes could damage the alliance's standing in the Islamic world.
Speaking to The Associated Press, Turkish Foreign Ministry spokesman Selcuk Unal denied Ankara is effectively grounding NATO.
"Turkey is not blocking NATO," he said. "urkey has been contributing to the preparations with a positive approach since the beginning."
Even if NATO ambassadors agree that the alliance should implement a no-fly zone, diplomats believe that it might be several more days before NATO aircraft start flying missions over Libya.
Luxembourg Foreign Minister Jean Asselborn called for a swift decision on military command, saying, "We need to decide now who does what."