EU Ramps Up Action Against Iran, Belarus, Warns Ukraine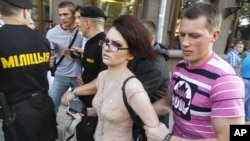 BRUSSELS -- The dire state of human rights in Belarus and Iran has spurred EU foreign ministers to intensify sanctions against individuals close to the ruling regimes in both countries.
EU ministers, meeting in Luxembourg on October 10, also discussed responses to the upcoming verdict in the trial in Ukraine of former Prime Minister Yulia Tymoshenko.
The ministers added 16 new names to a list of 192 individuals linked to President Alyaksandr Lukashenka's regime in Belarus who are barred from entering the EU. Most are judges who have sentenced protesters in the wake of a flawed presidential election in December.
The EU's foreign policy chief, Catherine Ashton, said that she was encouraged by the recent release of some political prisoners. But she said Brussels expects more from Minsk.
"We are not on this stage ready to consider any renewed dialogue until we see, and again we have been very clear, the release and rehabilitation of all political prisoners," Ashton said.
Ministers also agreed that the current sanctions -- set to expire at the end of October -- will be extended for another year.
That decision was made easier after Minsk's no-show at the recent Eastern Partnership Summit in Warsaw. The Belarusian delegation boycotted the meeting, accusing Poland of taking "unprecedented discriminatory steps" against Belarus in not inviting Lukashenka.
Tehran Too
At their meeting on October 10, ministers also targeted Iran's leadership -- nearly doubling the number of Iranians on the EU's visa ban list.
In March, the EU blacklisted 32 Iranians with close ties to the regime in Tehran and imposed a freeze on any assets they might have within the EU. In Luxembourg, the ministers added another 29 names to that list.
In conclusions adopted at the meeting, the EU said that it is "deeply concerned that the human rights situation in Iran continues to deteriorate." Ashton called on Tehran to improve its human rights record.
"I really call upon the Iranians to live up to their international obligations and to fully respect the rights of their people," Ashton said.
Tymoshenko Test
Ukraine also looms large on the EU agenda, with a verdict in the trial of former Prime Minister Yulia Tymoshenko expected on October 11. The foreign ministers will review various responses depending on the proceedings' outcome. But sources suggested to RFE/RL that the signing of the Deep and Comprehensive Free Trade Area (DCFTA) deal and the Association Agreement between Brussels and Kyiv might be in peril if the trial's result is viewed as unfair.
Attendees at last month's
Eastern Partnership summit
had agreed that those signings could take place as soon as the EU-Ukraine Summit in December, and that all technical aspects should be agreed upon by the end of this month.
Poland has pushed hard for the signing to be achieved during its six-month EU Presidency, which ends in December. But several countries, headed by France and Germany, could push for a slowdown in light of the political taint to the Tymoshenko case.
Diplomats have told RFE/RL that aside from Poland, Ukraine has no champion in the EU that is willing to back a quick deal anytime soon. One council source noted that "Kyiv hasn't really helped itself."
Ahead of the October 10 meeting, Lithuanian Foreign Minister Audronius Azubalis said that he hoped the Ukrainian agreement would be signed swiftly. But he also maintained that the EU remains concerned.
"We think that this agreement should be signed as soon as possible," Azubalis said. "That is one point. The second point is that in the same time we should press Ukraine on human rights and on the Yulia Tymoshenko case."
Ashton also reassured that the EU and Ukraine were on track to sign the agreement in December. But she warned that the ratification process might be tougher.
"There is no question but we are going to carry on with the detailed, technical work on the association agreement," Ashton said. "But there is then a political process that of course has to happen subsequently that involves the council and it also involves the European Parliament so what I would say to you is that it is at that point of the political process that whatever happens in Ukraine will be taken into account."