Former International Monetary Fund (IMF) head Dominique Strauss-Kahn has been released from jail in New York City, where he is facing charges of attempted rape.
Strauss-Kahn was released from Rikers Island prison late on May 20 after lawyers representing him posted $1 million in bail and a $5 million insurance bond.
The French politician and economist will now stay in a building in lower Manhattan, watched over by an armed guard and wearing an electronic monitoring bracelet to prevent him from fleeing while his case goes through the court system.
The next hearing in the case has been scheduled for June 6.
The 62-year-old Strauss-Kahn has been indicted for allegedly trying to rape a maid at a New York City hotel one week ago.
Strauss-Kahn, who denies the charges and has vowed to prove his innocence, resigned earlier this week as head of the IMF.
IMF: New Chief To Be Chosen By June 30
Meanwhile, the IMF says it hopes to choose a new managing director by June 30.
The IMF said the Washington-based global lending organization's 24-member executive board, which will pick Strauss-Kahn's successor, will accept nominations from May 23 to June 10.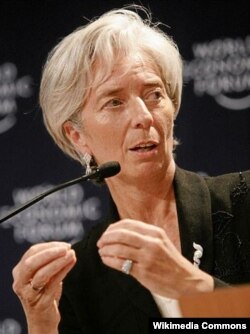 French Finance Minister Christine Lagarde is considered to be a front-runner for the top IMF job.
The board is expected to publicly announce the final three candidates that it will interview for the post.
Shakour Shaalan, the dean of the IMF's executive board, pledged that the selection of a new chief will take place in what he called an "open, merit-based, and transparent manner."
Reports say French Finance Minister Christine Lagarde has emerged as the leading choice among European nations to take the helm of the IMF.
Lagarde's chances are reported to have gotten a boost on May 20 when Kemal Dervis, a former finance minister for Turkey, said he did not want to be considered for the position.
compiled from agency reports