Senior European officials say another European should head the International Monetary Fund (IMF) following the resignation of Dominique Strauss-Kahn amid sexual-assault allegations.
The calls come as a debate heats up over whether the next IMF managing director should come from the developing world and not -- as has been the case for decades -- from Europe.
Strauss-Kahn resigned as IMF managing director days after he was arrested in New York over the alleged sexual assault of a hotel maid.
In a letter released by the IMF and dated May 18, he said he was resigning immediately to "protect" the institution.
The veteran French Socialist politician and onetime front-runner for the 2012 French presidency again denied all charges against him "with the greatest possible firmness."
At a news conference in Berlin today, German Chancellor Angela Merkel said Strauss-Kahn's decision "allows the IMF to regain its capacity to act."
Informal Deal
The Washington-based institution has had a European as managing director since it was set up in 1945 as part of an informal deal that awards the United States the top post at the World Bank in exchange.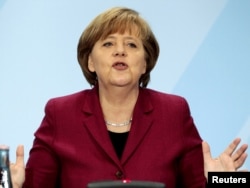 German Chancellor Angela Merkel
Merkel insisted that given the IMF's dominant role in helping eurozone states like Greece, Ireland, and Portugal deal with massive debt problems, it makes sense for Europe to retain the position.
"About the question as to why a European, I would like to answer this by saying, of course, the emerging countries have a right to one of the top positions of either the IMF or the World Bank in the medium term," Merkel said.
"But I think that in the current situation, when we have considerable problems with the euro, that the IMF is very heavily involved in this, which points to the fact that it is possible to put forward a European candidate and that we should promote this within the community of states."
Merkel said the fact that Strauss-Kahn had not served a full term also should be taken into account.
Asked if the EU could support someone from outside the bloc, a European Commission spokeswoman, Pia Ahrenkilde Hansen, said, "We believe we can identify a strong candidate in the midst of the EU."
And Ollie Rehn, European economic and monetary affairs commissioner, noted that knowledge of the European economy was one useful qualification for any candidate to succeed Strauss-Kahn.
Challenging Europe's Grip
Emerging market economies, which have been demanding a greater say in how the IMF is run, have challenged Europe's grip on the IMF's top job.
Chinese central-bank chief Zhou Xiaochuan said the makeup of the IMF's top management should "better reflect changes in the global economic structure and better represent emerging markets."
China and Japan both are calling for openness in the selection process for a successor.
Chinese Foreign Ministry spokeswoman Jiang Yu said today the selection should be based on "fairness, transparency, and merit."
"We have all along believed that the International Monetary Fund should continue to reform its structure and governance and choose its senior leadership based on the principles of fairness, transparency, and merit," she said. "In principle, we believe that emerging and developing countries should have representation at senior levels."
Prominent emerging-economy figures mentioned as possible candidates include former Turkish Economy Minister Kemal Dervis.
And leaders from the CIS group of former Soviet republics today threw their weight behind another emerging-economy figure -- Kazakh central-bank chief Grigory Marchenko.
Possible European choices include French Finance Minister Christine Lagarde, former British Prime Minister Gordon Brown, and Polish central-bank governor and former Prime Minister Marek Belka.
The IMF said it would release information "in the near future" about the appointment of Strauss-Kahn's successor.
His deputy, John Lipsky, has been serving as acting managing director since Strauss-Kahn's arrest on May 14 threw the IMF into turmoil.
Suicide Watch
Strauss-Kahn, meanwhile, who had been placed on suicide watch at New York's notorious Rikers Island prison, was on May 19
granted bail of $1 million by a judge in New York
. He will have to wear an electronic monitoring device and is confined to home detention. He has already turned over his passport.
He faces a number of charges in connection with the alleged sexual assault of a maid in New York's Sofitel hotel, including committing a criminal sexual act, attempted rape, sexual abuse, unlawful imprisonment, and forcible touching.
A judge in New York on May 16 had rejected a first bid for bail despite the offer of a $1 million guarantee, saying there was a risk he would flee the country.
France has no extradition treaty with the United States.
compiled from agency reports