BISHKEK -- The trial of ousted Kyrgyz President Kurmanbek Bakiev and 27 of his former associates and family members has been adjourned again after a defense lawyer said the judge should be replaced because the rights of the defendants being tried in absentia are being ignored, RFE/RL's Kyrgyz Service reports.
Irina Kamarda said that none of those being tried in absentia -- including the former president and several others -- has ever been questioned and no personal statements regarding the charges against them have been recorded to be considered by a court.
She said that therefore "the trial cannot be considered legal" and judge Damir Onolbekov should be replaced.
After Kamarda's statement, the trial was adjourned until an unspecified date.
The trial of Bakiev and 27 other former top Kyrgyz officials had resumed on March 18 after a four-month break.
Bakiev and his former associates are accused of having fired upon, or given the command to open fire on, unarmed protesters in Bishkek during the protests.
Many of the defendants are jailed or under house arrest, while Bakiev and several other defendants are being tried in absentia. Bakiev lives in Belarus at the invitation of President Alyaksandr Lukashenka.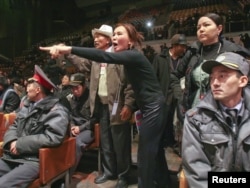 Spectators react at the opening of a trial at a Bishkek sports arena of ex-President Bakiev and 27 others on November 17.
The trial started in November in the Sports Palace in Bishkek with hundreds of spectators but was adjourned several times following rowdy scenes in which some relatives of the victims of the uprising threatened the defendants, their lawyers, and family members.
The trial is being conducted by the Bishkek garrison's military court at the Department for Penitentiary System Control. Hundreds of police are present at the trial to prevent disturbances.
Read more in Kyrgyz
here