(WATCH: RFE/RL's Azerbaijani Service filmed Eynulla Fatullayev at his home immediately after his release.)
Eynulla Fatullayev, a journalist and newspaper editor who had turned into one of the symbols of Azerbaijan's crackdown on freedom of expression, walked free on May 26 after having spent some four years in jail.
Fatullayev was released along with dozens of other inmates after being pardoned by Azerbaijan's President Ilham Aliyev.
His release was welcomed by many in Azerbaijan and also by international media groups that had campaigned on his behalf for years.
Speaking to RFE/RL less than two hours after being freed, Fatullayev said he believes those efforts played a key role in the government's decision to set him free.
"The activities of the international community helped me, of course," he said. "[First of all] I would like to say thank you to Amnesty International, because during the past four years it continued its complicated mission [to push] for my release."
Fatullayev added that his unexpected freedom felt like "a miracle" that was difficult to understand.
"I'm still trying to [understand] the situation," he said. "It's a miracle for me. I couldn't imagine it. It's a real surprise for me."
Fatullayev, editor of the now closed newspaper "Realny Azerbaijan," was arrested in 2007 and sentenced to 8 1/2 years in jail on charges including tax evasion and instigating terror.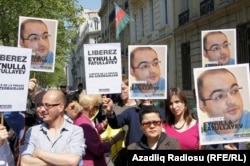 Protesters in France rallying in support of Fatullayev earlier this year. The journalist had been the subject of an intense international campaign for his release.
Media watchdogs believe the charges were fabricated in retaliation for Fatullayev's articles, including his investigation into the unsolved murder of a prominent journalist Elnar Huseynov, who was gunned down in 2005.
In 2010, the Strasbourg-based European Court of Human Rights (ECHR) ruled that Fatullayev should be released and paid 25,000 euros ($35,610) in compensation, saying that the government of Azerbaijan had violated his rights to freedom of expression and a fair trial.
Azerbajian's top court upheld the European court ruling and overturned his conviction. But it left in place a separate 2 1/2-year jail sentence imposed by a lower court in 2009 for possession of illegal drugs while in prison.
Fatullah remained in jail while efforts at home and on the international scene continued for his release. They included a Twitter campaign that was launched by Amnesty International just two days ago.
International Campaign
John Dalhuisen, the deputy director of the organization's Europe and Central Asia Program, told RFE/RL that Fatullayev's story had touched many Amnesty members across the world, who petitioned the Azerbaijani authorities, as well and their national politicians, to press for his release.
Dalhuisen described Fatullayev's release as a "positive step" while noting that others are still being held in jail in Azerbaijan for expressing their views.
"We definitely want to congratulate the Azeri authorities on this development and encourage the Azeri authorities to reflect on this release and the impact it will have on how they deal with opposition forces and the criticism that is essential and necessary in any stable functioning democratic environment -- that individuals can be released and progress will be achieved and there isn't the threat that perhaps the Azeri authorities imagine there to be," he said.
The Committee to Protect Journalists (CPJ), another group that had been campaigning on behalf of Fatullayev, described his release as "a victory against injustice."
CPJ's Europe and Central Asia Program Coordinator Nina Ognianova called on Azerbaijani authorities to abide by their international press freedom commitments and refrain from jailing journalists in retaliation for their work.
Asked about his future as a journalist, Fatullayev said that it did not solely depend on him: "In case the Azeri government ensures full security for my health and activities, I will remain in Azerbaijan and continue my work," he said.
"I am optimistic. I think will continue my activity," he told RFE/RL's Azerbaijani Service.
written by Golnaz Esfandiari in Washington with Khadija Ismailova and Arife Kazimova from RFE/RL's Azerbaijani Service