Family Connections Fuel Controversy Over Azerbaijan Grand Prix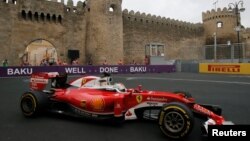 As the flashy Formula One circuit comes roaring into Baku for the second straight year, that the organizer of the race is the son of the country's sports minister is fueling renewed controversy and reminding outsiders of Azerbaijan's reputation for nepotism and corruption.
Arif Rahimov is the executive director of Baku City Circuit (BCC), the company responsible for organizing and promoting the Azerbaijan Grand Prix, which will be raced along the capital city's Caspian Sea coast and wind through its picturesque Old Town on June 25.

Rahimov, 30, is the son of Azerbaijani Youth and Sports Minister Azad Rahimov. It is a fact that has led to suggestions of a conflict of interest and allegations that the younger Rahimov was tapped to organize the prestigious Formula One (F1) event because of his father.

According to Azerbaijani law, a public tender has to be held for any government contract worth more than 50,000 manats ($29,400). No such tender was held in awarding Arif Rahimov's company the right to organize the Baku races.
"This trend is very dangerous for the competition in the market," Zohrab Ismayil, chairman of the Support The Free Economy public organization, told RFE/RL when asked about Arif Rahimov and his position as director of the Azerbaijani Grand Prix.
"The ordinary businessmen tend to think that participating in pubic bids [when they are held] is useless, since nepotism always wins," Ismayil said. "Also, if the contracts are signed between father and son there is a big chance that the prices are exaggerated."
The Azerbaijani government's total expenses in putting on the lavish and costly Grand Prix race are not known. However, in June 2016 Azad Rahimov said the state and other sponsors of the international event spent about 100 million manats ($59 million), a total that should have required a tender to be held.
Adding to the questions over an already controversial event are Azerbaijani Tax Ministry records that show that Arif Rahimov established a new company on February 2016, BCC Commercial MMC, which lists as its address Olympics Street 4 in Baku -- the address of the Youth and Sports Ministry headed by Arif's father.
The involvement of the younger Rahimov has led to suggestions that nepotism could be at play and spurred criticism and even jokes by Azerbaijanis on Facebook highlighting his inexperience:
"A dialogue between father and son:
Azad Rahimov's son: 'Dad, I am a good driver.'
Azad Rahimov: 'Great, son, let's organize a race then.'"
Ismayil, who has lived in exile abroad since a government crackdown on NGOs in Azerbaijan in 2014, said the staging of the Formula One race in Baku is a "serious source of corruption that only benefits foreigners and local officials at the [Azerbaijani] public's expense."
Azerbaijan was ranked tied for 123 out of 176 countries on Transparency International's Corruption Perceptions Index 2016.
The ties between Arif and Azad Rahimov are perhaps not unusual in a country in which the current president, Ilham Aliyev, replaced his father, Heydar, after he died in 2003 and where the first lady, Mehriban Aliyeva, was appointed in February by her husband to be Azerbaijan's vice president.
International rights groups and Azerbaijani opposition activists lodged protests when Formula One officials signed a 10-year contract with Azerbaijan in 2014 allowing it to host the top-level auto races, arguing that Baku's poor human rights record should preclude the country from being allowed to hold such an important international sporting event.

Similar criticism was made by rights activists after Azerbaijan was allowed to hold the 2012 Eurovision Song Contest and the 2015 European Games.

International rights organizations consistently criticize President Aliyev and his government for cracking down on civil rights, jailing opposition activists and politicians, and shutting down or severely restricting independent media outlets.

The holding of the Grand Prix race in Baku was recently criticized by Greg Maffei, the president and CEO of Liberty Media, which bought the Formula 1 enterprise in January.

Speaking at a media and telecom conference in Florida in March, Maffei said the Formula 1 circuit was now "in places like Baku" because some cities paid large sums of money to stage the race, Reuters reported.

He said the Baku organizers had paid a large fee for the rights to hold the race but had done "nothing to build the long-term brand and health of the business."

Arif Rahimov called the criticism "ignorant" and said Maffei had only been "involved in F1 for less than half a year" while the Azerbaijani organizers had worked on it "for three years" and had "more experience" than Maffei, Reuters reported.

When asked if Baku was in danger of losing the rights to hold the F1 race, Arif Rahimov said it had a binding contract to host the event for five years.

Formula One officials announced on June 19 that Baku would host a Grand Prix race next year, on April 29, which would be the third Formula One race held in Azerbaijan.

The exact price the Azerbaijani government pays Formula One every year to host the race is not known, but it was believed to be about $40 million – nearly twice as much as the British Grand Prix at Silverstone pays, the Daily Telegraph reported.

The hefty price tag is particularly steep considering Azerbaijan's economy suffering due to the huge drop in energy prices in recent years, leading some to think Baku might have to give up its hosting of the race for financial reasons, the Daily Telegraph reported, much like the legendary German racetrack Hockenheimring had to do this year.

The government says the weeklong festivities for the Grand Prix race in Baku -- including an international golf tournament and concerts by pop stars Mariah Carey, the Black-Eyed Peas, and Nicole Scherzinger -- draw tens of thousands of tourists to Azerbaijan and give a big boost to the local economy.
But it is unclear if the event and its huge costs – which include the virtual shutting down of the capital city's center for several days as the Grand Prix course is set up and the race run – actually exceed its benefits or if it is an economic loss that creates an atmosphere ripe for corruption.
Based on reporting by RFE/RL's Azerbaijani Service