WATCH: At the start of Gagarin's trajectory, a humble village where he is remembered -- by some, at least.By Claire Bigg

On April 12, 1961, a rocket blasted into space carrying Yury Gagarin, a young Soviet cosmonaut who was about to make history as the first man in space.
If Gagarin was nervous, he concealed it well. Clad in an orange protective suit, he carefully climbed into his spacecraft, the "Vostok 1," which had been readied for launch in a desert steppe of Kazakhstan.
He remained composed even as the hatch closed over him. "Let's go!" he cheerfully shouted as the engines began to roar.
Although rumors had been swirling that the Soviet Union was planning something spectacular, Gagarin's flight was kept secret in case the mission ended in failure.
Only when it became obvious that he had made it alive into orbit did the Soviet news agency, Tass, break the news.

Space Race Victory
The flight was a triumph for the Soviet Union in its space race against the United States. Soviet leader Nikita Khrushchev is rumored to have danced on the table in jubilation.

WATCH: From the moment he became the first human being in outer space, Yury Gagarin became a living legend. But he also proved an enduring inspiration for Soviet pop culture:
For the 27-year-old Gagarin, the flight was the culmination of an arduous two-year training that earned him legions of fans across the planet. He had proven that humans could survive in space as well as paved the way for future manned explorations.
No amount of testing could have guaranteed that he would survive the flight. The tremendous acceleration to which Gagarin would be exposed during takeoff was of particular concern.
After a flight of 108 minutes, Gagarin safely ejected from the spacecraft and landed in the field of a collective farm some 800 kilometers southeast of Moscow.
His surreal encounter with a stunned farm worker was a moment Gagarin liked recounting.
"The first person I met was a kolkhoz worker," he said in one of his numerous interviews. "At first, she was a little afraid of me, but then we made friends. Just imagine, all of a sudden a man in a bright orange suit emerges and starts walking toward her!"
Natalya Sviridenko, a former schoolteacher, still chuckles as she recalls the day Gagarin dropped near her village.
"This old woman was planting potatoes with her granddaughter. He called her. At first she was terrified!" she says. "He asked her to help him take off his suit; it was so heavy he had trouble moving. The old woman asked whether he had come on horseback. He answered 'No, it wasn't that kind of speed.'"

Rocket Ride To Fame
Gagarin's path to fame is almost as extraordinary as his space journey.
Born in a remote village of western Russia to a family of farm workers, the young Gagarin hardly seemed destined for glory.
He entered a technical college following World War II. After much perseverance -- his lack of height presented a major obstacle -- he finally realized his dream of enrolling in aviation school, where his determination soon earned him the esteem of his superiors.
He was selected as one of 20 candidates for the first space flight. As the intensive training proceeded, Gagarin quickly emerged as a front-runner.
Cosmonaut Viktor Gorbatko met him during the testing, and the two became close friends. Gorbatko says Gagarin's talent and charisma made him a natural choice for the space mission.
"What made Yura stand out is that everyone liked him -- his bosses, his friends, and anyone who met him," he tells RFE/RL. "He was one of these people who gets along with everyone. He was also very smart. He was definitely ahead of us, and he would probably have been ahead of us all today."
It was not only Gagarin's hard work but also his humble beginnings that appealed to the Soviet leadership -- proof that under communism, even a peasant boy could rise to fame and success.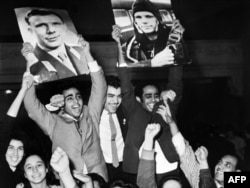 People wave Gagarin portraits in Moscow on April 12, 1961, the day he proved that humans could survive in space.
The other pilot considered for the spaceflight, German Titov, was the son of a teacher. His Germanic first name may also have hurt his chances.
Gagarin, in contrast, was encouraged to talk about his rural childhood and often described himself as an ordinary Soviet citizen.
But ultimately, it was Gagarin's personal charm that won over Sergei Korolyov, the man behind the Soviet space program.
"Korolyov was wise, and he foresaw that this person would become the face of our country, of our people," recalls Georgy Grechko, one of the engineers who designed the Vostok spacecraft. "I think he also chose Gagarin for his smile. This smile wasn't just a facial expression, it came from the soul. And this smile truly became famous throughout the world."
Grechko says Korolyov fell under Gagarin's spell when he saw the cosmonaut take off his shoes before entering the spaceship training module.
Mysterious Death
Celebrity doesn't appear to have changed Gagarin much. Even as he toured the world as an unofficial Soviet ambassador, his friends say he remained just as modest and approachable as he had been before being propelled to fame.
Grechko, who later become a cosmonaut himself, recalls Gagarin's shyness at a ceremony held shortly after his spaceflight.
"He gave us heartfelt thanks, after which a group of women with flowers rushed to him with such enthusiasm that he initially jumped back in surprise," he says. "We immediately came up with the following joke: Gagarin is asked about the scariest moment in his flight. The scariest moment was after the flight, he answers, when women with flowers threw themselves at me!"
Despite the busy schedule that came with celebrity status, Gagarin insisted on continuing with his training.
It was during one of these routine training flights that Gagarin lost his life, at just 34 years of age. The plane crash in which he and his flight instructor were killed caused an international stir and gave rise to a host of theories about what could have gone wrong during the flight.
Investigators say the pilots probably lost control of the plane due either to turbulence caused by another jet flying below or to a weather balloon spotted too late. But some people believe Gagarin was in fact murdered by the KGB, was drunk during the flight, or even deliberately crashed the plane, unable to cope with the pressure of celebrity.
With the mystery still unsolved 50 years later, admirers of the first man in space are still searching for answers about his demise.
For those who knew him personally, Gagarin's untimely death remains a painful memory.
"His disappearance is an unhealed wound for me. Nothing presaged this tragedy; he was an absolutely healthy young man filled with hope for the future, with a desire to work and fly into space again," says Tamara Filatova, his niece and goddaughter. "He hoped cosmonauts would one day be able to travel to the moon and to Mars. He dreamed of flying there."