MOSCOW -- The celebrations marking the 50th anniversary of
Yury Gagarin's historic orbiting
of the Earth should be a triumphant occasion for Anatoly Perminov, the head of Russia's Federal Space Agency (Roskosmos).
Instead, they could turn out to be his swan song.
Less than a week before the anniversary, a Soyuz TMA-21 piloted spacecraft dubbed "Gagarin"
finally took off
after a week of embarrassing delays, transporting two Russian cosmonauts and one American astronaut to the International Space Station.
That same day, Deputy Prime Minister Sergei Ivanov said it was high time for Perminov to step down.
Half a century ago, the Soviet Union shocked and awed the world with Gagarin's historic 108-minute flight. But as Russia marks that historic milestone with gala celebrations, the country's space program appears to be a shadow of its storied predecessor.
Yury Karash, a member of the Russian Space Academy, tells RFE/RL that Russia's space program has "stagnated" under its present leadership.
"I don't like to say this, but that is the way it is," Karash says. "The sector unequivocally wants to go forward but the management say, 'We don't need to, we're the leaders in space.' They say, 'We've got the Soyuz space ship, everything's dependent on Russia, we put the most rockets up in space -- what more do you want?'"

It Is Rocket Science
The delayed launch last week was just the latest in a series of mishaps.
In the most embarrassing incident, a Russian Proton-M rocket transporting three satellites took off from the Baikonur launch pad in Kazakhstan in December, veered off course, and disintegrated over the Pacific Ocean near Hawaii.
The three satellites were meant to complete the orbiting Glonass navigation system, Russia's state-sponsored rival to the United States' GPS. Instead, the crash cost Russian taxpayers 2.5 billion rubles ($90 million).
Two top Roskosmos officials lost their jobs and Perminov was personally reprimanded by President Dmitry Medvedev.
Then, in February, Russia temporarily lost contact with a GEO-IK-2 military satellite, which had been launched into the wrong orbit.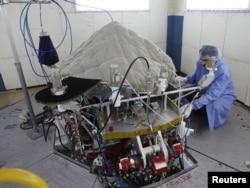 A Russian engineer works in August on the Geo-IK-2 space satellite, which was launched on February 1 and subsequently failed to establish contact with ground control.
Despite the mishaps, analysts suggest that the Gagarin anniversary could help revive the space program's fortunes.
"I think the anniversary could be a catalyst for expanding work on the space rocket industry in Russia in the long term," says Aleksandr Zheleznyakov, a leading observer of the Russian space program. "Of course, the development of Russian cosmonautics will be carried along on the wave of public interest. The tasks undertaken by the government and scientists will help and of course be facilitated by additional funding."
More Money
Roskosmos's 2011 budget of $3.5 billion is almost triple what it was three years ago and the largest annual budget allocation since the collapse of the Soviet Union.
Speaking with leaders of Russia's space industry at his Novo-Ogaryovo residence outside Moscow on April 7, Prime Minister Vladimir Putin said the figure makes Russia the world's fourth-largest spender on space after NASA, the European Space Agency, and France.
Putin added that Russia planned to move beyond the space program's current task of using Soyuz rockets to transport crews to the International Space Station.
"In 2013 we should start flight and construction tests of Angara carrier rockets of both light and heavy classifications at the Plesetsk cosmodrome [in Arkangelsk Oblast in northern Russia]," Putin said. "Beside that, we will build the Rus-M carrier rocket, which will bring manned and cargo spaceships into orbit."
Putin said Russia is building a launch pad in Vostochny, in Eastern Siberia, that is slated to be completed by 2018. The new launch pad should increase Russia's global share of space launches, which it currently conducts at the Baikonur cosmodrome in Kazakhstan.

Ask For The Moon
Russian space officials also say they view a manned flight to Mars as a realistic goal by 2040. Six cosmonauts have been isolated in a capsule in Moscow for 520 days in an attempt to simulate the emotional and physical strain involved in traveling to Mars.
Some scientists argue that Russia should instead first focus on establishing a base on the moon, which Putin said could be accomplished within 20 years.
Zheleznyakov says either mission could do wonders for the space program's morale and reputation. "This would really help the development of the space program," he says. "I really hope that all the ambitious projects linked with flying to the moon and Mars are completed."
But to get there, Karash says the space program, which has been living on the glory and legacy it inherited from its Soviet predecessor, will need to see a change in its leadership and subculture.
"Then they can bring in new people who are trained and knowledgeable -- those who see a link between innovative, active, large-scale space program and the national interest of the country," Karash says. "These people will come, and I assure you that the Russian orbital manned station will very soon return around Mars. Russia can do this."
Greatly Exaggerated?
Meanwhile, Perminov, the Space Agency's embattled director, says he will not step aside -- despite Ivanov's comments -- unless ordered to do so by Putin. Russian media, however, are already speculating about his successor.
The official government newspaper, "Rossiiskaya gazeta," reported last week that Perminov might be replaced by his deputy, Anatoly Davydov, or by Oleg Frolov, the head of procurements for the Defense Ministry. Other media have suggested that Deputy Defense Minister Vladimir Popovkin might get the job.
But some Russian analysts, like Anton Sanin of the Russian Space Academy, defend Russia's space program, citing its central role in transporting crews and equipment to the International Space Station (ISS).
"The fact that the United States has dropped its Space Shuttle program essentially means that the Russian Soyuz is the only remaining means of getting to the ISS," Sanin says, "which goes to show that everything is not as bad as some people allege."