Dozens of cars and pickup trucks -- crammed with families and their belongings -- were fleeing the Libyan town of Bani Walid amid fears of a major battle there.
Feeling residents say many more residents remain trapped in the desert town about 180 kilometers southeast of Tripoli because they don't have enough fuel for their vehicles.
Fighters of Libya's new interim government, the National Transitional Council, have besieged Bani Walid for weeks -- one of the last remaining strongholds of Qaddafi loyalists since anti-Qaddafi fighters seized Tripoli last month.
Meanwhile, some clashes between Qaddafi loyalists and anti-Qaddafi forces were reported on the outskirts of the town on September 12.
A deadline for pro-Qaddafi fighters to surrender expired on September 10. NATO aircraft reportedly have been bombing pro-Qaddafi positions since that deadline expired, including ammunition storage facilities in the town.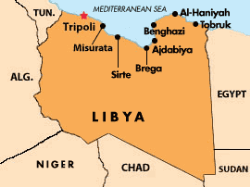 Mahmud Jibril, the deputy chief of the National Transitional Council, said in Tripoli on September 11 that a new transitional government will be formed within 10 days, once "Libya is liberated."
Jibril said anti-Qaddafi fighters were still "in the process of liberating Libya" and that "revolutionary combatants are still positioned in frontline battle positions against Qaddafi loyalists:
"In our negotiations with all areas, all the cities in the west and the east, the transitional government, and all areas in the south, and even the cities still under siege, will be part of a new government," he said.
Fierce Resistance
Anti-Qaddafi fighters were reported to have entered some residential districts on the outskirts of Bani Walid. But correspondents at frontline positions report that the advance of anti-Qaddafi forces generally has been stalled by fierce resistance from a hard core of Qaddafi loyalists entrenched in the town.
Anti-Qaddafi fighters have vowed to seize Bani Walid within the next 48 hours. They say capturing Bani Walid and Sirte, along with the air base at the remote southern stronghold of Sabha, is just a matter of time.
The anti-Qaddafi forces also insist their advances during the three weeks since they seized control of Tripoli have been slowed by unsuccessful attempts to negotiate surrender deals with tribal leaders, the latest of which ended on September 11 with the killing of two envoys from the National Transitional Council.
Bani Walid controls transport routes leading to Sabha and the desert areas of southern Libya that offer relatively easy escape routes into neighboring Niger, Chad, and Algeria. It also is in an area controlled by pro-Qaddafi fighters from the Warfalla tribe, the largest tribe in Libya.
Some former government officials from Qaddafi's regime are thought to have taken refuge in Bani Walid. Pro-Qaddafi fighters from the dominant Warfalla tribe also are entrenched within the town.
Battle At Oil Refinery
Meanwhile, suspected Qaddafi loyalists attacked the front gate of Libya's largest oil refinery on September 12 near the coastal town of Ras Lanuf, killing 15 guards and injuring two people. Ramadan abdel Qader, a worker at the refinery, told Reuters that about 15 trucks came from the direction of the city of Sirte, the bastion for pro-Qaddafi fighters on the Mediterranean coast.
Niger's government said there has been an exodus of senior Libyan officials from Qaddafi's regime in recent days, including Qaddafi's 38-year-old son Saadi and 31 other members of his inner circle.
The U.S. State Department says the government of Niger has confirmed it is in the process of detaining Saadi Qaddafi and is studying what to do with him.
Saadi, the third of Qaddafi's seven sons, is a former soccer player who quit the sport in 2004 to lead an elite Libyan military unit. He had offered last month to give himself up to anti-Qaddafi forces if it could be ensured that his surrender would stop "the spilling of blood."
Saadi had been hired in 2003 to play for the Italian first division soccer club Perugia but barely kicked a ball when he was suspended for eight months after testing positive for taking a performance-enhancing drug.
Niger, which recently recognized the National Transitional Council as Libya's legitimate interim government, has vowed to respect international commitments if any wanted Libyans entered its territory.
Niger's government also confirmed that at least three of Qaddafi's top generals, including his Air Force chief General Al-Rifi Ali Al-Sharif, were among the regime loyalists who have arrived in Niger.
compiled from agency reports