WATCH: The flooding continues in Queensland, Australia, with entire houses swept away and dozens of people confirmed dead or missing. (Reuters video)
Deadly floodwaters that have swept through northeastern Australia flowed onto the streets of the country's third-largest city.
Thousands of residents of low-lying suburbs fled to higher ground and Brisbane's center was described a "ghost town" as the river city of 2 million battened down for its worst deluge since 1893.
The flooding has already devastated large parts of the northern state of Queensland. At least 21 people have died and several dozens have been reported missing since drenching rains that began in November sent swollen rivers spilling over their banks.
Upstream of Brisbane, 1,100 people fled to evacuation centers in the city of Ipswich, where 3,000 properties were inundated.
Two days earlier, on January 10, a fast-moving torrent crashed through the Lokyer Valley to the west of Brisbane.
Local resident Barry Bull managed to escape through his roof as the waters came without warning.
"Then the windows started to break and the water started to come in, and we raced up onto the second story, and then I climbed up into the ceiling and punched a hole," Bull told Reuters.
'Surreal Experience'
Relentless rains that have been pounding the region have finally cleared.
But Anna Bligh, Queensland's prime minister, warned that the break in the weather would have no impact on the flood threat to Brisbane -- the state capital and economic hub.
She warned that the death toll would likely rise as rescue officials gained access to the devastated areas.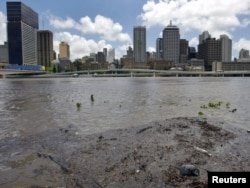 The swollen Brisbane River against Brisbane's skyline on January 12
"I think we have all woken up in Brisbane to a very surreal experience," Bligh said. "The sky is blue, we are facing an almost perfect Queensland summer day. We can take no comfort from that blue sky. The water and the rain have already done their damage. They are in the catchment and they are on their way down our river system."
The Brisbane River broke its banks on January 11 and almost 20,000 homes were expected to be completely flooded, with another 12,000 partially affected, by the time the water level reaches its peak early January 13.
Water levels were expected to stay at peak levels until at least January 15, but Bligh said many people won't be able to access their homes for several days beyond that.
No Early Letup
Damage is already immense, with witnesses spotting houses in the river. Boats torn from their moorings floated down the Brisbane River along with debris, smashing into bridges. A popular waterside restaurant's pontoon was also swept away by the current and floated downstream.
Garbage collections and bus services were canceled, power was cut to tens of thousands of premises, and Brisbane's port was open only for emergency supplies.
Panic-buying stripped supermarket shelves of essential supplies.
Australian Prime Minister Julia Gillard called the disaster's scale "mind-boggling" but urged people to help their neighbors during the city's emergency.
"Queensland has already faced some dark days and there are dark days still ahead," Gillard said. "But Australia is standing with you, working with Queensland to help Queensland through this crisis, and we will be there shoulder to shoulder not only for the days ahead but for the many months of recovery and rebuilding to come."
Queensland's floods have turned an area larger than France and Germany combined into a disaster zone, devastating farmland and small towns, while virtually shutting down the state's coal industry.
And there's no relief in sight yet.
The forecast is for more rain to come for some areas, and there are reports of flooding in the neighboring state of New South Wales, with about 4,500 people stranded.
One central bank board member said the disaster could cut 1 percent off the country's economic growth.
compiled from agency reports