Russian investigators say they have arrested a former police officer in connection with the murder of journalist Anna Politkovskaya and are close to determining who ultimately ordered her killing.
Vladimir Markin, a spokesman for Russia's federal Investigative Committee, announced that a retired lieutenant colonel from the Moscow police, Dmitry Pavlyuchenkov, was arrested on August 23 on suspicion of organizing Politkovskaya's murder in October 2006, including the hiring of three Chechen men who have also been implicated in the case.
"Pavlyuchenkov, in return for a cash payment, received an order to organize Politkovskaya's murder," Markin said. "He established an organized criminal group that included the three Makhmudov brothers and other individuals."
The spokesman added that Pavlyuchenkov, who at the time was in charge of a surveillance police unit, was believed to have used his staff to help track Politkovskaya's movements.
"Pavlyuchenkov...ordered his subordinates to track the journalist's daily routine and her movements around the city," Markin said. "Pavlyuchenkov then acquired weapons, drew up a plan, and assigned the role of each of the accomplices in planning and executing this murder."
Pavlyuchenkov also allegedly handed the murder weapon directly to Rustam Makhmudov, the man who was arrested early this summer as the suspected trigger man in the killing, which took place in the entryway of Politkovskaya's Moscow apartment building as she was carrying in groceries from her car.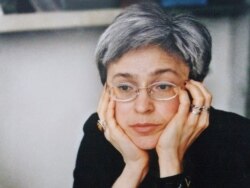 Politkovskaya won several awards for her coverage of human rights abuses, but her work also made her many enemies.
Politkovskaya died after being shot four times at point-blank range with a gun with a silencer.
There have been few concrete developments in the now five-year-old case. Two of Makhmudov's brothers, Dzhabrail and Ibragim, were acquitted of Politkovskaya's murder in 2009, together with a third man, former police officer Sergei Khadzhikurbanov.
But Russia's Supreme Court threw out the decision and sent the case back to prosecutors, who then reopened a new investigation with the same suspects and later arrested Makhmudov as the suspected gunman.
A Vocal Critic Of The Kremlin
The arrest of Pavlyuchenkov five years after the killing may finally bring investigators one step closer to solving the murder of one of Russia's best-known journalist crusaders.
Politkovskaya covered human rights abuses in Chechnya for the newspaper "Novaya gazeta" and was a vocal critic of both the Kremlin and the leadership in Chechnya.
She had won numerous international awards for her reporting, and was unique in providing deeply detailed, compassionate accounts of human suffering at the hands of both federal forces and the republic's volatile leadership, including current chief Ramzan Kadyrov.
Her work had earned her admiration among ordinary people in the North Caucasus as well as the international community. One Western journalist referred to her as "a beacon of light in a world that has lost its moral compass." She was 48 at the time of her death.
Pavlyuchenkov's arrest has been cautiously welcomed by Politkovskaya's supporters.
"Novaya gazeta" was the first to announce the news of the arrest. Anna Stavitskaya, a lawyer for Politkovskaya's family, spoke of a "turning point" in the investigation, and said relatives had "long suspected" that Pavlyuchenkov -- who, ironically, had served as a secret witness in the first trial of the Makhmudov brothers -- was himself involved in the killing.
Unanswered Questions
But with the alleged organizer now in police custody, Stavitskaya told RFE/RL's Russian Service that attention would now naturally turn to the far more salient question as to who ordered the killing, and why.
"If Pavlyuchenkov was in fact the organizer of this murder, he may or may not have known the person who ordered it, because there may have been another link between the organizer and the person who ordered the killing," Stavitskaya said, adding that Pavlyuchenko "may or may not reveal" this link, "because usually in murder cases detained suspects do not want to expose themselves, so they don't start talking until much later."
Stavitskaya added that Politkovskaya's family and supporters thought the case was a long way from being settled and would only consider it to have been resolved "when everyone who was involved in it -- including the person who ordered it -- appears in court. And we are going to do everything to make it happen."
Amnesty International welcomed Pavlyuchenkov's arrest, with Europe and Central Asia Deputy Program Director John Dalhuisen saying in a statement that it "would appear to be a step in the right direction. The question that remains, however, is how far up the chain the orders came from."
Investigative Committee spokesman Markin said on August 24 that investigators have information about the person believed to have ordered the murder, but claimed it would be "premature" to make such information public.
Chechen leader Ramzan Kadyrov has denied any involvement in the killing.
Rights activists expressed skepticism that investigators are ready to name any "zakazchiki," or clients, in the high-profile and deeply sensitive case.
Some observers have suggested the crime could ultimately be traced to Kadyrov or the Kremlin itself as payback for Politkovskaya's relentless exposure of atrocities in Chechnya. But few believe any investigation in Russia will have sufficient muscle to target the ruling elite.
Kadyrov has denied any involvement, saying: "I do not kill women. I have never killed women," he told NTV television.
"I don't particularly trust loud announcements," Lev Ponomaryov of the For Human Rights movement told the Interfax news agency. "I suspect the identity of any 'zakazchik' will end up being predetermined."
But Sergei Sokolov, the deputy editor in chief of "Novaya gazeta," told RFE/RL that investigators were right to proceed cautiously on a politically loaded issue like Politkovskaya's killing.
"It is very difficult to prove who ordered [the murder]," Sokolov said. "You have to have very strong evidence and we shouldn't talk about it prematurely, especially now that we're entering a complex political season and there may be people who want to take advantage of this issue."
based on reporting from Yevgenia Nazarets and Maryana Torocheshnikova in Moscow; written by Daisy Sindelar in Prague