KYIV -- Former Ukrainian Interior Minister Yuriy Lutsenko has gone on trial for abuse of office and misappropriation of funds, RFE/RL's Ukrainian Service reports.
Lutsenko, one of the leaders of the Our Ukraine-People's Self Defense (NUNS) parliament faction, was arrested on December 26.
Lutsenko has denied any wrongdoing and says his case is politically motivated.
He announced in court today that he would end a hunger strike he began a month ago to protest his arrest.
"I will stop the hunger strike as I consider its continuation senseless," Lutsenko said. "I started it to prove there is no justice and decent prosecution in this country, but now I need my health to break the current situation."
At the beginning of the hearings in Kyiv's Pechera district court today, Lutsenko said he had no faith in the presiding judge and requested his replacement. The court adjourned to discuss that request.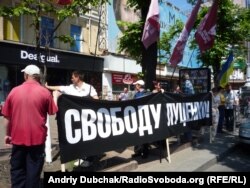 Protesters gathered for Lutsenko's trial.
An RFE/RL correspondent reported that Lutsenko's wife and son were admitted to the courtroom, but most journalists seeking to cover the proceedings were turned away.
Some 100 activists and supporters gathered in front of the court building on Kyiv's central Khreshchatyk Street today, holding NUNS and opposition Batkivshchyna party banners and placards saying "Liberty for Lutsenko!" and "The prosecutor is democracy's gravedigger!"
Read more in Ukrainian here