France, Germany Urge Kyiv To Overcome Turmoil, Enact Reforms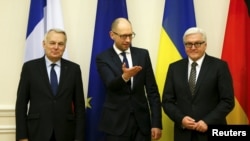 The foreign ministers of Germany and France have urged Ukraine to overcome its political turmoil and move ahead with reforms needed to revive the economy and carry out the Minsk peace agreement.
Upon arriving in Kyiv on February 22, German Foreign Minister Frank-Walter Steinmeier said he and his French counterpart, Jean-Marc Ayrault, saw no alternative to the Minsk agreement for ending the fighting in eastern Ukraine between government troops and Russian-backed separatists.
"We need a readiness from the Russian side to implement the Minsk deal.... But we also need Ukraine," Steinmeier said, urging Ukrainian leaders to set aside domestic political battles and push ahead with needed reforms.
Ukraine has so far failed to enact measures to increase autonomy for the eastern regions and allow local elections there, while Ukraine claims that Russia violates the peace agreement by sending troops and weapons to back up the separatists.
Ukrainian Prime Minister Arseniy Yatsenyuk told Steinmeier and Ayrault that he hoped they would help force Russia to keep its side of the agreement, which was drafted with the participation of France and Germany in the Belarusian capital a year ago.
Separately, U.S. President Barack Obama in a phone call on February 22 told Russian President Vladimir Putin that Moscow needs to honor the cease-fire in Ukraine and allow a special monitoring mission from the Organization for Security and Cooperation in Europe to have full access to the conflict zone, including the border with Russia, the White House said.
The European diplomats' visit to Kyiv was meant to pave the way for another round of talks on carrying out the Minsk agreement on March 3 in Paris.
The French and German ministers also used the visit to urge Ukraine to stick with economic reforms prescribed by the International Monetary Fund (IMF) to ensure the fund does not suspend its $17.5 billion bailout program for Kyiv.
The IMF put the loan program on hold after the resignation of Ukraine's economy minister amid charges of corruption within the ruling coaliation earlier this month, in a development that sparked a political crisis.
Seeking to quell the crisis, President Petro Poroshenko last week urged Yatsenyuk to resign along with his government, but the prime minister survived a confidence vote in parliament.
Steinmeier told Yatsenyuk that European leaders "were following -- especially the last week -- with great interest and some concern."
He warned that the IMF is looking for political "stability" before offering further loans to Ukraine. Kyiv has also received loans of over $30 billion from the European Union and the United States that are linked to the IMF funding.
Ayrault praised Yatsenyuk for pushing through parliament some unpopular belt-tightening measures that are meant to reform Ukraine's economy and revive growth.
"But we are also assessing all the work that remains to be done and it is considerable," Ayrault said. "I would even say that time is running out."
Ukraine has been in a severe recession, with output falling by 10 percent, and experts say further funding from the IMF will be needed to refloat the economy.
With reporting by AFP and AP