German investigators say they suspect an ethnic Albanian from Kosovo, who has been arrested for the fatal shooting on March 2 of U.S. airmen at Frankfurt Airport, is an Islamist.
Hesse State Interior Minister Boris Rhein said the 21-year-old suspect, identified as Arid Uka, had confessed to targeting the U.S. military personnel traveling on board a bus, killing two and injuring two.
The U.S. soldiers, who were based at Lakenheath in England, were about to travel to the nearby U.S. air base at Ramstein on their way to deployments in Iraq and Afghanistan.
Rhein told reporters in Wiesbaden that the initial investigation suggested that Uka, who was to appear later today in a German federal court, was a radical Islamist, but had not been part of a terrorist network.
German federal prosecutors said in a statement that there was "a suspicion that the act was motivated by Islamism."
Mourning In Kosovo
RFE/RL Pristina bureau chief Arbana Vidishiqi said a sense of outrage had been palpable in Kosovo's capital following the attack.
"There is shock and anger that can be felt all around the streets...and the working places, with people discussing how this could have happened," Vidishiqi said.
"People gathered last night upon hearing the news in several cities, including Pristina, the capital, and Mitrovica too. Young people expressed their condolences to the United States people, to its army, and to its government."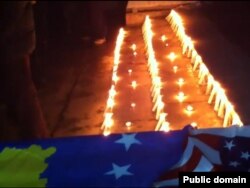 A candlelight vigil is held at Pristina University after news of a Kosovar suspect in U.S. servicemen killings in Frankfurt on March 2.
Kosovo's government described the shooting as "a macabre act against the values of civilization and against the tradition of Kosovo's people, to endlessly show gratitude toward the United States for its role in the freedom of Kosovo."
The U.S. Embassy in Pristina said, "the act of a single individual will in no way affect the deep and abiding friendship between our two countries."
German Chancellor Angela Merkel and U.S. President Barack Obama both promised to do everything to resolve the case.
Extremist Activity Online
Reports say Uka was born in the northern city of Mitrovica but grew up with his parents in Germany. Security sources in both countries said the alleged attacker was not previously known to investigators and had no criminal record.
The "Bild" daily reported that police searched the suspect's flat on the outskirts of Frankfurt after the attack and his parents' house.
According to German media, Uka had portrayed himself as an Islamist on the Internet.
"Spiegel" magazine's online edition reported that investigators were studying a page on the social-networking website Facebook believed to be Uka's, on which he makes no secret of his extremist tendencies.
The website of broadcaster Hesse Rundfunk said the suspect had contacted Islamist preachers online, using a pseudonym.
A number of planned Islamist attacks on German soil have been prevented by police intelligence in the past decade.
Four militants were convicted in March 2010 for a plot thwarted in 2007 to attack U.S. soldiers and civilians in Germany.
compiled from agency reports