French Weekly Publishes Caricatures Of Prophet Muhammad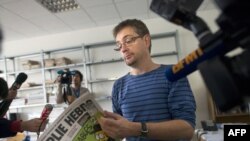 The French satirical weekly "Charlie Hebdo" has published a series of cartoons ridiculing the Prophet Muhammad.

French Muslim leader Mohammed Moussaoui expressed "profound consternation" at the "insulting" images.

Prime Minister Jean-Marc Ayrault defended the principle of freedom of speech, but expressed "disapproval of excess."

"We are a country that is ruled by law. We have freedom of expression and a free press, which can express itself right up to the point of caricature," Ayrault said.

"But there is also a question of responsibility. And as far as public order is concerned, all the precautions are being taken with the Interior Ministry for order to be maintained."

Foreign Minister Laurent Fabius, who is in Cairo, said he opposes "provocations at this hostile time."

"Is it pertinent or intelligent in this context to pour more oil on the fire? The answer is 'no.' But we don't want to say to ['Charlie Hebdo'] that we're infringing on their right to free expression," Fabius said. "So there's a balance that has to be struck."

The French Foreign Ministry has ordered increased security at diplomatic sites around the world in anticipation of a possible violent reaction from offended Muslims.

Paris has closed its embassies and diplomatic schools in 20 countries in anticipation of violence.

The cartoon on the back of the current issue shows the prophet naked, as do several other images inside the magazine.

Police have been deployed around the Paris offices of the magazine. The publication's website has been hacked and is inaccessible.

"Charlie Hebdo" chief editor Stephane Charbonnier dismissed critics of the cartoons as "ridiculous clowns" and chided Ayrault for not "supporting press freedom and the republic."

"The world context will never be favorable to having a laugh at the expense of radical Islam or religion in general," Charbonnier said. "If we take into account context, we will not be able to talk about anything anymore. The satirical press is doomed. We are screwed."

He added that publications must be free to criticize and satirize radical Islam.

"Clearly there's only a problem when one discusses radical Islam. When we attack the Catholic extreme right and the Catholic extreme right fights back -- they have lodged 14 lawsuits in 20 years -- it's never mentioned in the newspapers," Charbonnier said.

One gets the impression it's OK for 'Charlie Hebdo' to criticize the Catholic extreme right. But one isn't allowed to poke fun at Muslim fundamentalists. It's clearly a new rule that we will have to take note of. But we won't respect it."

The publication of the caricatures comes as passions around the Islamic world are already inflamed by the release last week of a trailer of a film that mocks the Prophet Muhammad.

That film, which was privately made in the United States, has sparked days of rioting that have left at least 19 people dead.

The Paris offices of "Charlie Hebdo" were firebombed in November 2011 after the magazine published another caricature of the prophet.


With reporting by Reuters and AFP