The International Monetary Fund (IMF) has announced two finalists to become the next leader of the organization -- French Finance Minister Christine Lagarde and Mexico's Central Bank Governor Agustin Carstens.
The IMF, which lends money to countries in financial difficulty, said in a statement that its 24-member executive board would interview the two candidates before selecting the IMF's next managing director.
The board has set a June 30 deadline to choose a new chief.
The post was left vacant after the former head of the IMF, Dominique Strauss-Kahn, resigned on May 18 following his arrest on charges of sexually attacking a hotel maid in New York.
The veteran French Socialist politician and one time front-runner for the 2012 French presidency, who is facing trial in New York, has denied the allegations.
Lagarde Bid Gaining Momentum
Lagarde is considered by many as the leading choice for the IMF post. The 55-year-old French finance minister and former executive in the international law firm Baker & McKenzie is backed by the European Union.
She also gained momentum in recent days with official support from Egypt, Indonesia, and a number of African countries.
European officials argue that, given the IMF's dominant role in helping eurozone states like Greece, Ireland, and Portugal deal with massive debt problems, it makes sense for Europe to retain the position.
But an alleged abuse-of-power scandal hangs over Lagarde back home.
On May 10, a French public prosecutor called for a judicial investigation into Lagarde's role in the settlement of a legal contest between the state and tycoon Bernard Tapie, a personal friend of French President Nicola Sarkozy.
Back in 2007, Lagarde intervened to end this court dispute by ordering a special panel of judges to arbitrate in the case. Tapie was subsequently awarded $405 million in damages.
Lagarde denies any impropriety, and a French court decision on whether to investigate her role in the affair has been put back until July 8, after the IMF board expects to make its choice.
IMF Top Job Traditionally Stays In Europe
Fifty-three-year-old Carstens, a former Mexican deputy finance minister and IMF deputy managing director from 2003-06, has the support of a dozen Latin American countries, but he acknowledges that his bid is a long shot.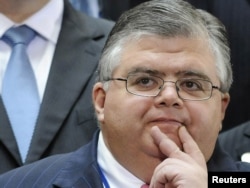 As a non-European, Agustin Carstens says he can bring a fresh perspective to the IMF.
"I'm not fooling myself. I mean, it's like starting a soccer game with a 5 to 0 score," he said during an appearance at a Washington think tank, the Peterson Institute for International Economics, on June 13.
A European has traditionally headed the IMF and an American has led its sister organization, the World Bank.
Developing economies have long complained about the arrangement but failed to unite in the IMF race.
None of the increasingly crucial BRICS emerging economies -- Brazil, Russia, India, China, and South Africa -- has publicly endorsed any candidate. Nor have the United States, Japan, and South American economic power Argentina.
Carstens made the point that, if a European candidate is appointed to the post, it may result in "conflicts of interest" given the ongoing debt-crisis in some of the European countries.
Carstens argues that the European debt-crisis had snowballed into a big problem over the years and the region needs a fresh perspective in order to solve the problem.
"What would help me is precisely to have a fresh pair of eyes," he says.
"I have not been part of the process; the process of this crisis started not just a few months ago but a few years ago. And I think somebody coming from the outside can in a way speak of their mind more frankly, and I think that will be an advantage."
The IMF statement did not mention the candidacy of Bank of Israel Governor Stanley Fischer, who only declared himself at the last minute. According to the fund's bylaws, his age at 67 put him two years over the official age for a new managing director.
Two other candidates, former South African Finance Minister Trevor Manuel and Kazakhstan's central bank head Grigory Marchenko, have dropped out of the race, saying Lagarde was certain to be chosen.
with agency reports