Dozens of people have been detained after gay-rights activists and opponents of an unauthorized gay-pride march clashed in the Russian capital, RFE/RL's Russian Service reports.
Activists from Russia, Europe, and the United States had planned two gay-rights advocacy events near the Kremlin despite a vow by the authorities to arrest anyone who showed up after approval was denied by the city for a rally.
Some 34 people were detained in all, according to RFE/RL's Russian Service, including from among gay-rights activists and their opponents.
The crackdown against the activists was condemned by Moscow Helsinki Group head Lyudmila Alekseyeva, who characterized the incident another infringement on the right to peaceful assembly and a "sign of an...undemocratic state."
An RFE/RL correspondent said the fighting broke out after a group of "radical-looking youths" confronted gay-rights demonstrators.
Police wrestled members of both sides to the ground and led them off to waiting security vans.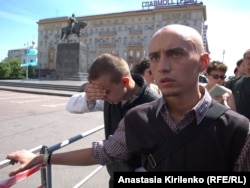 Clashes broke out when antigay youths (pictured) confronted participants in the banned gay-pride rally in downtown Moscow on May 28.
Russian authorities have for years denied homosexuals permission to hold demonstrations on the grounds that they would cause a violent reaction in the country, where prejudice against gay people runs deep.
Amnesty International had weighed in to urge Russian authorities to allow the May 28 gay-rights event to go ahead.
Efforts that began in 2006 to hold the event have consistently been met with official bullying, arrests, and clashes with police and antigay onlookers.
The Strasbourg-based European Court of Human Rights ruled in October 2010 that Moscow authorities had violated the European Convention on Human Rights by forbidding the rallies in 2006, 2007, and 2008.
Gay-rights activists hoping that a recent change in Moscow's political leadership -- away from the famously homophobic former mayor, Yury Luzhkov, to successor Sergei Sobyanin -- might help them break the cycle have been disappointed.
Russian activists vowed
after receiving the authorities' rejection letter on May 17 that they would proceed with the gay-pride event in the capital.
Homosexuality was a criminal offense in Russia until the early 1990s.
written by Andy Heil based on RFE/RL and agency reports