UN Chief Urges Turkey, Israel To Repair Ties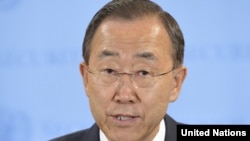 United Nations Secretary-General Ban Ki-moon is urging former allies Turkey and Israel to mend their relationship in order to help the Middle East process.

Ban's comments came after Turkey on September 3 expelled Israel's envoy to Ankara and suspended military cooperation with the Jewish-led state following the release of a UN report on the deaths of nine Turks who were killed in an Israeli raid on an aid flotilla that was heading to the Gaza Strip.

Israel has again expressed regret for the loss of life in the May, 2010, raid -- but said it will not apologize for the incident, as demanded by Turkey.

Ban, speaking on a visit to Australia, said both Turkey and Israel are important countries in the Middle East region, and their relationship is key to the Middle East peace process and a potential Israeli-Palestinian peace pact. The UN chief said he hopes the two nations will be able to repair their ties.

Earlier in Washington, the U.S. State Department said the United States has longstanding friendships with both Israel and Turkey, and said it regrets that the two sides have been unable to overcome their differences. It said the U.S. will encourage Turkey and Israel to improve their relationship.

The UN inquiry, headed by former New Zealand prime minister Geoffrey Palmer, said Israel had used "excessive" force in its raid on the flotilla in international waters, but that the UN panel considers Israel's naval blockade of Gaza to be legal.

The report said the flotilla organizers had acted "recklessly" in attempting the mission.

The Turkish foreign minister, Ahmet Davutoglu, told a press conference in Ankara that the time had come to deprive Israel of Turkey's friendship.

"Today, we reached a point where Israel has spent all chances we have offered," he said. "Now it is time for the Israeli government to pay a price for seeing itself above the law and performing illegitimate actions without taking human conscience into account and this price is being deprived of Turkey's friendship."

He said that meant the drastic downgrading of diplomatic ties and the suspension of once-close military cooperation between the two countries.

"Turkey-Israel diplomatic relations have been reduced to a second secretary level," he said. "All personnel above the second secretary level will return to their countries by [September 7] at the latest. All military agreements between Turkey and Israel have been suspended."


Turkish President Abdullah Gul told reporters today in Istanbul that more actions may follow.

"Some still may not understand the extent of our determination. The measures being taken now are the first stage of this. Depending on the course of events and Israel's behavior, there could be other measures later on," Gul said.

Deadline

Turkey had set Israel a deadline of September 2 to apologize for the May 2010 incident, in which nine pro-Palestinian activists -- eight Turks and one Turkish-American -- died after Israeli commandoes stormed the "Mavi Marmara," the lead ship in the Turkish aid flotilla.
The flotilla had been attempting to breach the Israeli naval blockade of the Gaza Strip, run by the Islamist militant organization Hamas, a group which violently opposes Israel's right to exist.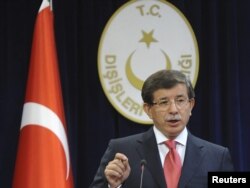 Turkish Foreign Minister Ahmet Davutoglu speaks in Ankara on September 2: "Turkey does not recognize Israel's blockade of Gaza."
Israel has refused to apologize to Turkey but has offered reparations to the families of the dead and indicated willingness to issue a statement of regret. Turkish officials have dismissed that offer as inadequate.
The Turkish downgrade of diplomatic relations came as a UN report on the raid upheld Israel's blockade as legal while condemning it for using unreasonable force against the flotilla.
The report accepts Israel's position that the naval blockade is a "legitimate security measure." It acknowledges that Israel "faces a real threat to its security from militant groups in Gaza." But it says Israel's use of force was "excessive and unreasonable" and added: "No satisfactory explanation has been provided to the panel by Israel for any of the nine deaths."
Gul declared the report "null and void," and Davutoglu disputed its judgment that Israel was lawfully entitled to blockade Gaza. He indicated Turkey would take steps to have the embargo declared illegal under international law.
"Turkey will take all measures which it sees as necessary for freedom of navigation in the eastern Mediterranean. Turkey does not recognize Israel's blockade of Gaza. It will secure the study of this blockade at the International Court of Justice," Davutoglu said.
In Washington, a statement by the Turkish Embassy said Ankara would seek to prosecute all Israelis involved in the raid.

"Turkey will take legal actions against the Israeli soldiers and all other officials responsible for the crimes committed and pursue the matter resolutely," the statement said.

The UN report, which runs to 105 pages, was completed months ago but its publication was delayed several times as Israel and Turkey attempted to patch up their once-close relationship. Both Turkey and Israel have said the report -- which was intended to help each side mend fences -- will make reconciliation more difficult.
compiled from agency reports