GDANSK, Poland -- This harbor has seen more than its share of history. It was here where the first shot of World War II was fired. And in its shipyard three decades ago, Lech Walesa and the Solidarity trade union lit the fuse that ultimately led to the collapse of communism in Europe.
The famous gates to Walesa's workplace are still standing, as is the wall he scaled to join his fellow strikers back in the heady days of the early 1980s. But the pounding of dock work no longer echoes over the city, and the cranes that once assembled tankers and ships now provide an eerie backdrop to hectares of industrial wasteland.
You Might Also Like

...

EU's Largest New Member Takes Over Presidency

Poland Pledges Greater Attention To Eastern Europe
When Poland joined the European Union in 2004, the European Commission began investigating whether the Polish government's financing of the Gdansk Shipyard violated the rules of the union's internal market and concluded that it had to be restructured, sparking noisy trade-union protests against Brussels.
In 2007, the Polish government approved its sale to ISD Polska, a subsidiary of Ukrainian steel-trading company Industrial Union of Donbass. The next year, the commission ruled that state aid to the shipyard must cease.
Maciej Wewior, a spokesman for the Polish Treasury Ministry, says overseeing the sale of the iconic shipyard -- where "Polish independence, the Polish changes, were born" -- was difficult but necessary.
"You have this sentiment, you have this really strong feeling about the shipyards," Wewior says. "But we do realize, and I think a lot of people do, that times have changed. You need to have a business model, a business model based on the economy. You cannot depend on state aid, you cannot depend on the state itself anymore."
More Than A Shipyard
The restructuring of the Gdansk Shipyard is just part of a larger story about how this city of 450,000 on Poland's northern Baltic coast is retooling itself the meet the challenges of the 21st-century global economy. Some 4,000 privately owned maritime companies of various sizes have sprung up in the birthplace of the Solidarity trade union, hoping to use the area's unique know-how as an engine for economic growth.
The efforts are already paying off. Unemployment in Gdansk is 6 percent, half the national average and down from 10 percent in 2007, making it a potential showcase with so many eyes focused on economic issues during
Poland's freshly inaugurated EU Presidency
.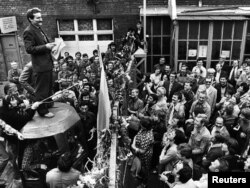 Solidarity founding leader Lech Walesa (atop column) speaks to workers during a strike at the Gdansk Shipyard in 1980.
Arkadiusz Aszyk, who sits on ISD Polska's board, says the company is branching out the shipyard's activities in an effort to make it more competitive, including building towers for wind turbines to be sold to the German industrial giant Siemens.
"We have diversified our production, so we are not only a shipyard," Aszyk says. "We are building ships, but we are also building the wind towers for renewable energy and different steel constructions."
One of the biggest and most profitable new companies in Gdansk is the ship repair yard Remontowa, which converts more than 200 vessels a year. The company has found a niche market converting boats to offshore vessels that supply oil and gas rigs around the world. Exxon Mobile, BP, and Danish shipping and energy company Maersk are among its clients.
Zbigniew Andruszkiewicz, a member of Remontowa's board, says the company is striving to manufacture custom-made vessels to compete with the cheaper mass-produced ones produced by East Asian shipyards.
"You simply have to find a product that is better," Andruszkiewicz says. "The Chinese mainly do boats such as tankers and cargo ships, but there is a type of boats that won't be ordered from them, especially such boats which are considered to be tailor-made."
Northern Shipyard, a sister company to Remontowa, also specializes in offshore vessels. But the company is also hoping to capitalize on the Gdansk's know-how from its decades as a key Warsaw Pact military port to manufacture combat vessels for the NATO allies.
"This potential still exists," Remontowa Chairman Andrzej Wojtkiewicz explains. "We can offer such products if there is interest from navies from various NATO countries."
'Gateway' Opportunity
Meanwhile, the Australian company The Macquaire Group has invested 20 billion euros in Gdansk's Deepwater Container Terminal (DCT), which has ambitious aspirations to challenge the German city of Hamburg's status as the cargo hub of Central and Eastern Europe.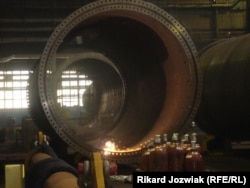 Parts for contruction of a wind tower at the Gdansk facilities
Dominik Landa, DCT's business development manager, shows off a new terminal on the northernmost shore of Gdansk harbor and notes how much the scene has changed only recently.
"In the beginning of 2005, there was only a nudist beach, some amber [hunters], and a lot of [the] beautiful sand that Poland is very much known for," Landa says.
Now, in place of the nudist beach, there is a 30-hectare man-made peninsula with three ship-to-shore cranes that can handle 600,000 7-meter-long containers annually. Two more cranes will be added in October, and there are already well-developed plans to double the size of the peninsula.
Just around the corner, a vast logistics park is being built to ship the containers to markets throughout the region. Landa expresses confidence that DCT can change the trading patterns of the continent.
"We have a true chance to be a gateway for Central and Eastern Europe, which means 100 million[-plus] people," Landa says, rattling off national markets like the Czech Republic, Slovakia, Lithuania, western Ukraine, and Belarus.
"All the countries close-by could be served," he says. "Some of the countries are of course not landlocked, which means they have their own ports. But some of them are landlocked and they have limited options to get the containers to and from, which means that they would naturally need a port close by to serve them."
Ship-to-shore cranes at the Deepwater Container Terminal in Gdansk
Since the terminal is built directly on the sea, backers note, the biggest cargo vessels can dock easily. The port is also ice-free all year round, something that rivals like Riga and St. Petersburg cannot boast. There is also scope to expand the size considerably, too, something that Hamburg cannot afford after years of growth.
He also points out that Maersk, the largest container ship operator, already has decided permanently to use DCT.
"The former pattern that was consisting of the hubs of north Europe and then delivering the containers over the Danish straits to Poland by feeders have changed," Landa says. "Now we have the biggest vessels ever coming to Gdansk."
But for projects like the DCT to truly reach their potential, Gdansk -- and Poland as a whole -- will need better infrastructure. The country's transportation network is in dismal shape, with a recent study by the European Road Safety Atlas showing that the country has the most dangerous roads in Europe, along with Bosnia-Herzegovina.
Work has begun to replace the potholed road linking DCT with the rest of Gdansk, with a new highway scheduled for completion by the summer of 2012, in time for the European football championships, which will be hosted by Poland and Ukraine.
"Looking at what is happening and what rate it is happening in those shipyards, what the private companies are doing over there, we are optimistic," Treasury Ministry spokesman Wewior says. "Of course we will never say what happened with the shipyards was a success, but given what could have happened, I think we did pretty well."