BRUSSELS/WARSAW -- After centuries as Europe's stomping ground and years as its prickly gadfly, Poland is now poised to lead the continent.
Poland, a member since 2004,
takes over
the European Union's six-month rotating presidency on July 1 amid high hopes.
"Europe's foundations are threatened" and strong leadership is needed, Polish Prime Minister Donald Tusk said recently, in remarks reported by the Associated Press. "Poland's presidency will revive a belief in the sense of EU institutions."
The largest of the EU's new members, Poland has undergone a transformation in recent years from a pesky nuisance with a chip on its shoulder, bent on confrontation with frontline EU members like Germany, to a pragmatic team player ready to take on the responsibilities of leadership, analysts and officials say.
Piotr Maciej Kaczynski, a political analyst at the Brussels-based Center for European Policy Studies (CEPS), notes that Warsaw has come a long way from the days when it would argue relentlessly -- and hopelessly -- for a more restrictive definition of "vodka" that favored its domestic producers or more favorable representation in the EU's complex qualified majority voting (QMV) system.
"There was a period of marginalization of Poland in the EU," Kaczynski says. "This was a period where ministers from time to time tried to veto issues on QMV matters where they could not veto. They lost a number of important, legitimate battles, starting with the definition of vodka. That policy was not successful; that policy brought wrong results and embarrassment."
Different Tone
Poland was particularly confrontational within the EU from 2005 to 2007, when the conservative and deeply traditionalist Law and Justice Party (PiS), led by twin brothers Lech and Jaroslaw Kaczynski, controlled both the presidency and the government.
The tone began to change when the pro-business liberal party, the Civic Platform, won the 2007 parliamentary elections and its leader, Donald Tusk, became prime minister. Lech Kaczynski continued to serve as president until his death in a plane crash in April 2010.
One of the key changes Tusk made was improving Poland's relations with EU giants Germany and France, as well as with important nonmembers like Russia.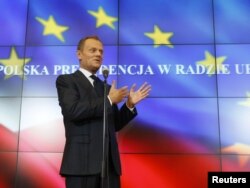 Polish Prime Minister Donald Tusk at a press conference presenting the logo of the Polish Presidency of European Union in Warsaw on May 10.
Animosity toward Germany and Russia runs strong in Poland, which has suffered invasions, occupations, and partitions at the hands of both countries for centuries.
Tusk has made a concerted effort to move beyond this, ditching the frequent anti-German rhetoric of the Kaczinski brothers and forging an excellent working relationship with Chancellor Angela Merkel.
Bartek Nowak, executive director of the Center for International Relations in Warsaw, says Poland and Germany now discuss EU policy on a very regular basis.
"We realized and implemented practically the old saying that 'you can do a lot with Germany but nothing against them,'" Nowak says. "So we implemented it -- practically on every policy we are trying to consult Germany and have them onboard."
Being Practical
Tusk also moved Warsaw's relations with Moscow to a more pragmatic and less confrontational posture.
This process intensified when, in April 2010, Russian Prime Minister Vladimir Putin joined Tusk in honoring the memory of Polish military officers killed in the Katyn forest by Soviet agents during World War II. Putin was the highest-ranking Russian official ever to mark the Katyn massacre, and Tusk was the first Polish leader to receive an official invitation to attend.
Days later, tragedy struck when Lech Kaczynski was killed in a plane crash in Russia en route to another memorial ceremony for the Katyn victims. The outpouring of sympathy from Russians served to further warm relations, although the thaw has not been without
its critics
.
But as Nowak explains, Poland's reset with Russia was also grounded in practical considerations.
"We discovered that we are also not effective if you are considered in the EU as a Cold War warrior against Russia; because for too many countries of the EU, the relations with Russia are very important," Nowak says. "So we are now much more pragmatic, we got a quite stable relation with Russia."
Nowak adds that the improved Polish-Russian relationship has the knock-on effect of improving ties with France, which considers Russia an essential partner.
In Good Stead
The improved ties have revived dreams that a "Weimar triangle" of France, Germany, and Poland could provide the EU with a powerful engine for growth.
Poland's credibility in the EU was also enhanced when it successfully weathered the 2008 financial crisis, even posting positive growth in 2009 when many other European economies were reeling.
"It definitely was very important for Poland that we were not among those countries which were hit by the crisis," says Katarzyna Pelczynska-Nalecz of the Polish think-tank Center for Eastern Studies. "It was this term forged by the Polish government that we are 'the green island in this red sea of economic crisis.'"
Poles' attitudes toward the EU, meanwhile, have become increasingly positive. According to a recent poll, 83 percent of Poles say joining the bloc has benefitted the country.
In its six-month presidency, Poland is expected to push its traditional agenda of integrating countries on the EU's Eastern frontier like Ukraine and Georgia.
Poland was one of the driving forces behind the EU's Eastern Partnership program and Warsaw is keen to strike a deal with Ukraine on a Deep and Comprehensive Free Trade Area (DCFTA).
"There is a huge attention for having a tangible result from [the Eastern Partnership program] and that tangible result should be a DCFTA with Ukraine. As simple as that," Kaczynski explains. "Is it possible, is it feasible? We don't know. Negotiations have been dragging on for months, for years. There have been 18 rounds of negotiations rounds thus far so it is not going not be easy at all. But there is this pressure that they want to have this success and they want to have it now because there are elections a month later."