A Georgian-flagged ship whose 10-member crew had been stranded in Libya for nearly 11 months over a business dispute has arrived in Malta after seizing on confusion around the uprising against Muammar Qaddafi to make a break for it, RFE/RL's Georgian Service reports.
Their escape was guided by the stars because of damage to their navigation equipment.
The crew of the "Vasilios N" -- six Georgian sailors, three Ukrainians, and one Azerbaijani -- had been stranded in the Libyan town of Misurata following a dispute between the ship's owners and the purchaser of its cargo, which was partially damaged in a storm.
During much of their ordeal, the sailors were short of food, medicine, and clothing, and survived mostly by fishing.
Last week, amid continuing unrest in Libya, the six Georgian sailors made a request to be evacuated, saying the Misurata seaport had been shelled and their lives were in danger.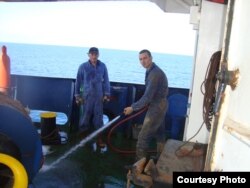 Sailors Zurab Guralia (left) and Giorgi Kurashvili aboard the "Vasilios N" during its 11-month ordeal
But on March 9, the crew took matters into its own hands and managed to steer the "Vasilios N" out of Misurata.
Manana Ambalia, wife of the ship's captain, Anton Kurashvili, contacted RFE/RL late the same day to say she had received a text message from her son, who is also a sailor on the ship.
It said simply: "We escaped from Libya on the ship and have arrived in Malta's capital, Valetta, about to be inspected in the port. All of us are fine."
She said Kurashvili had managed to navigate celestially and through intuition, as the ship's navigation equipment had been damaged in a fire.
Media reports said representatives of Georgia's consulate in Italy were in touch with the Georgian sailors and were promising assistance.