BRUSSELS -- European Union heads of government are gathering in Brussels with a raft of items on the agenda including a likely nod for Croatian entry to the bloc -- but it's Greece's economic troubles that will hang like a dark cloud over the summit.
The Greek government survived a vote of confidence late on June 21.
But the EU's top decision-makers now will be looking for a commitment by Athens to push through painful economic reforms needed to avert debt default. A vote is due next week in a hostile parliament on stringent austerity measures such as privatizations and tax hikes.
Europe's finance ministers are likely to give the go-ahead to a tranche of 12 billion euros ($17 billion) to Greece on July 3 if the austerity measures sail through the Greek chamber. Discussions are also under way about a possible second bailout package for Athens, similar in size to the first one of 110 billion euros ($160 billion) that was approved last year.
European Commission President Jose Manuel Barroso said during a press conference ahead of the June 23-24 summit on June 22 that Greece could expect European support if it tackled its financial troubles.
"My message today is clear: If Athens acts, Europe will deliver," Barroso said. "There is a plan. I urge everybody to now act upon it. I think it is better to act than just to talk."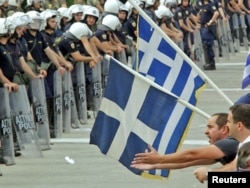 Austerity measures have not gone over well in Greece.
But there are fresh doubts that Germany, the biggest paymaster of the eurozone, will support a second bailout immediately.
Berlin has been keen to convince private creditors to roll over Greek debt in a second rescue, but there seems to be a growing consensus that the private sector can be involved on a more voluntary basis, an option backed by both France and the European Central Bank.
Economic Management
Barroso also announced that the EU Commission was ready to make an early delivery of 1 billion euros ($1.4 billion) in structural funds to the country to foster growth.
The funds are mainly used in the new member states of Central and Eastern Europe to catch up with the countries in the West, but Barroso said that he hoped to secure a more strategic review at the summit of how this money is used.
"I believe it is a time to call for a more strategic use also of our European structural funds and I think it is important to show to our Greek friends and partners that yes, the way out is difficult but there is hope and there are solution at the end of this path," Barroso said.
"That is why I would like to ask the European Council to discuss what we can do to assist Greece beyond its consolidation efforts to enhance competitiveness and address the more urgent problems of unemployment."
The leaders are also expected to endorse a number of instruments to prop up economic governance in the EU. The most important of these are a package of laws called the "six pack," which has divided the European Parliament and member states in recent months but a solution is expected to be reached.
At the heart of the conflict is how far the European Commission should enjoy a strengthened role in enforcing economic governance rules, with the member states showing reluctance to cede power to Brussels.
The national capitals are also resisting the idea that sanctions will be applied automatically when member states exceed the limits on budget deficit and debt and they are also lukewarm to the idea that members of the European Parliament should have the right to call on national ministers to appear in the European Parliament when their countries break the rules.
'Temporary' Internal Borders
The ministers will also endorse a commission proposal to allow the introduction of temporary internal borders inside the visa-free Schengen zone that encompasses most EU member states. The move was triggered when France earlier this year unilaterally decided to impose controls on its border to Italy to prevent people escaping upheaval in North Africa from entering.
Barroso defended the proposal by saying that it would guarantee that similar actions in the future would be handled in a more centralized fashion.
"We are also exploring the feasibility and design of a community-based safeguard mechanism which could in the last resort include the temporary reintroduction of internal border controls," Barroso said.
"Let me be crystal clear: this is not a rollback of the abolition of internal border, this is a way of strengthening the European dimension of the system so that individual member states don't feel pressured into acting unilaterally."
There will also be a decision to beef up the EU's border agency, Frontex, and to agree on a common asylum package that will ensure equal treatment across the union with minimum standards for reception and the same criteria for receiving refugee status in all member states.
Croatia will also be given the green light to become the EU's 28th member state by July 2013. Zagreb will hope to close its remaining accession negotiation chapters by the end of this month, including the difficult ones which deal with the reform of the country's judiciary and competition laws.
Some member states, including the United Kingdom and the Netherlands, are likely to ask for a monitoring mechanism in the run-up to Croatian entry to check if all promised reforms are implemented correctly.