Greek Prime Minister George Papandreou has said he will reshuffle his cabinet and seek a vote of confidence for his new government this week, after coalition talks with opposition parties failed.
Opposition party officials had called for Papandreou's resignation as a condition for any coalition deal. Papandreou's announcement came after hours of negotiations.
Earlier reports said the Socialist leader spoke with New Democracy Party leader Antonis Samaris.
He was reportedly seeking a power-sharing arrangement in order to secure approval of controversial economic measures required for the debt-racked country to receive another batch of bailout funds.
An opposition source had said they would accept the power-sharing plan only if the terms of gaining additional bailout funds were renegotiated.
The developments come on a day that witnessed mass street protests in the capital, Athens, over the government's plan to push the set of strict austerity measures through parliament.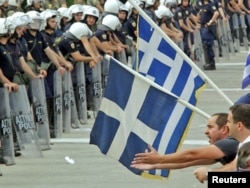 A demonstrator confronts riot police near the Greek parliament in Athens on June 15.
The measures, which include a new plan of tax hikes, spending cuts, and selloffs of state property through 2015, are required for Greece to continue receiving aid from the European Union and the International Monetary Fund (IMF).
The EU and IMF have conditioned the release of the next tranche of a 110 billion-euro ($159 billion) bailout on approval of the new program.
Massive Protests
A Greek default on its debt would send shock waves through the eurozone.
But public outrage at the measures has been mounting, with many feeling that the government is unfairly making citizens pay for its own mismanagement and corruption.
Today, an estimated 20,000 gathered in the center of Athens to protest, with many chanting "Thieves, traitors!"
Police fired tear gas at rock-throwing demonstrators outside parliament and clashes broke out between police and demonstrators outside the legislative assembly. Angry youths hurled gasoline bombs at the Finance Ministry.
At least a dozen people were injured in the clashes, including one policeman, and dozens were detained.
One protester, Maritina Efidaki, told Reuters that fear over her future had prompted her to come out to the street.
"I am 25 years old. I don't know what will happen in my future," she said. "I am very angry about the current situation, and if we don't come out to protest, who will?
Authorities say that another 20,000 demonstrated in the main northern city of Thessaloniki.
Meanwhile, workers from the country's main private- and public-sector labor unions joined the 24-hour strike, crippling public transport and services.
Unity Under Threat
Papandreou has also felt increased political pressure in recent days.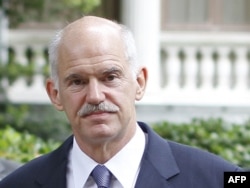 Greek Prime Minister George Papandreou leaves the president's office in Athens.
A member of parliament from his ruling Socialist Party resigned from the cabinet on June 14, leaving the party with a slim majority of 155 out of 300 ahead of the vote on the measures set for later this month.
Another party member said he would vote against the bill, making what had once seemed a done deal less certain.
Earlier today, Papandreou said at a meeting with Greek President Karolos Papoulias that his country was at a crossroads and appealed for unity on the fiscal plan.
"We are at a historically crucial moment and at a critical time for decisions and I believe that national consensus is important for the country's interest," Papandreou said. "Even today, I am communicating with the leaders of other parties for this goal."
Meanwhile, eurozone finance ministers have also failed to bridge their differences over a second bailout plan for a Greece that is set to be a focus of an EU summit on June 23-24.
Meeting on June 14, the ministers failed to overcome deep divisions as to how far private creditors can be persuaded to "voluntarily" back a second bailout.
The lack of agreement pushed the cost of insuring Greek debt against default to a new record high.
written with agency reports