The International Criminal Court's chief prosecutor, Luis Moreno-Ocampo, has ended weeks of speculation by requesting arrest warrants for the Libyan leader Muammar Qaddafi, along with one of his sons and his intelligence chief, for alleged war crimes in the campaign to suppress an uprising against his regime.
Moreno-Ocampo said Qaddafi, along with his son, Saif al-islam, and Abdulah al-Senussi, Libya's head of espionage, had acted as an "inner circle" in carrying out the "predetermined" killing of unarmed protesters, which he said amounted to crimes against humanity.
The arrest warrant request has been issued with unprecedented speed, coming just 2 1/2 months after Qaddafi's brutal attempt to crush demonstrations against his 42-year rule prompted a referral by the UN Security Council.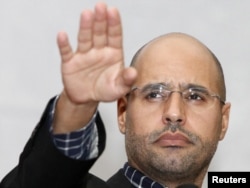 Qaddafi's son, Saif al-Islam
Speaking at a news conference in The Hague, where the International Criminal Court (ICC) is based, Moreno-Ocampo said Qaddafi had "personally" ordered attacks against civilians.
"The evidence shows that Muammar Qaddafi personally ordered attacks on unarmed Libyan civilians," he said. "His forces attacked Libyan civilians in their homes and in the public space, shot demonstrators with live ammunition, used heavy weaponry against participants in funeral processions, and placed snipers to kill those leaving mosques after the prayers."

Undergoing Torture
He also said there was evidence that such actions were continuing in parts of Libya controlled by pro-Qaddafi forces, even as a NATO aerial campaign sought to prevent them regaining control of regions held by rebels.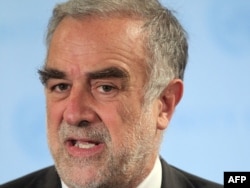 The ICC's chief prosecutor, Luis Moreno-Ocampo
Dissidents were being identified, rounded up, and herded into prisons in cities such as the Libyan capital, Tripoli, where they were undergoing torture, Moreno-Ocampo said.
"[Qaddafi's] second eldest son, Saif al-Islam, is de facto prime minister and al-Senussi, Qaddafi's brother-in-law, is his right-hand man, the executioner, the head of the military intelligence," Moreno-Ocampo said. "He commanded personally some of the attacks. The office documented how the three held meetings to plan and direct the operations."
Qaddafi had "absolute authority to commit crimes in Libya," added Moreno-Ocampo, who will present his evidence to the court for its judges to decide on whether the case is strong enough to proceed. Even if they rule in favor, it is unclear how the ruling would be enforced since the ICC relies on member states to carry out arrest orders. Nor is Libya an ICC member state, complicating matters further in a country that has descended into bitter civil war.
The request for arrest warrants was swiftly criticized by Libyan officials, who denounced the ICC as a Western creation for prosecuting African leaders.
However, Britain's foreign secretary, William Hague, welcomed the move, saying: "The request for these warrants is a reminder to all in Qaddafi's regime that crimes will not go unpunished and the reach of international justice will be long. Those responsible for attacks on civilians must be held to account. The international community must fully support the ICC in thoroughly investigating all allegations."
compiled from agency reports